Frequently Asked Questions
Below you will find the answers to questions we get asked the most.
How do I contact Customer Service?
We are available Monday - Friday from 8 a.m. to 7 p.m. CT and Saturdays from 10 a.m. to 4 p.m. You can call our Customer Service Team at 800-304-4202 or you may email us at help@4patriots.com and we will be happy to assist you.
How do I unsubscribe to emails?
At the bottom of any email you receive from us, you will see the option to unsubscribe or update your preferences on the emails we send to you.

You will then see a page where you can make these changes here: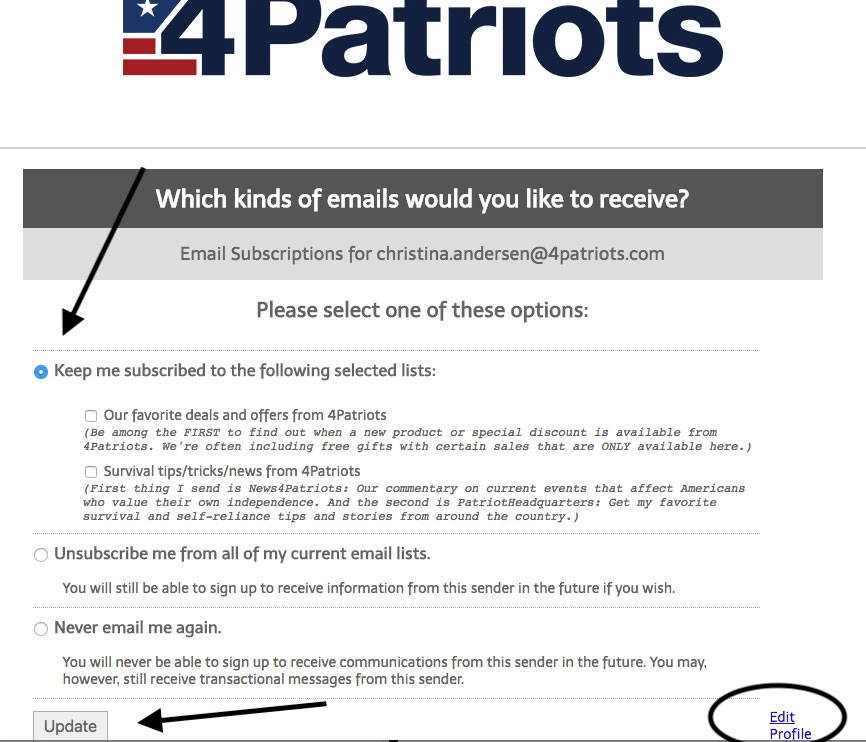 If you have any trouble with this, simply call our Customer Service Team and we will be happy to assist you.
Do you have an affiliate program?
Is it safe to buy online?
Buying online is absolutely one of the safest ways to shop! SSL Certificates authenticate our identity and encrypt the information that visitors enter on our site.
When an SSL Certificate is installed, you can rest assured that the information you send is secure. This is the same type of technology used by Amazon to protect their shoppers.
We use a third-party credit card processor that meets strict international standards for data security. We do NOT store your credit card number.
We at 4Patriots understand that you are putting your trust in us when you purchase from us online. We go to great lengths to ensure that your information is safe from beginning to end and we thank you for your confidence in us.
If you have any questions or prefer to order by phone, please call us 24/7 at 1-800-304-4202.
Many of you have heard the voice of Frank Bates, our popular spokesperson and contributing writer. Some of you have asked if he is a real person. The answer is yes! Rest assured, Frank is real and he lives here in Tennessee, but we'll confess that Frank isn't his real name. "Frank Bates" is the pen name he uses to protect his privacy, which is very important to him in a time when privacy is harder to come by. Frank is in his early 70s, served as an officer in the US Navy in Vietnam and has 5 children and grand-children. You can hear from Frank regularly in our videos, and on our blog (PatriotHeadquarters.com).
As with Frank Bates, "Jeff" isn't his real name, but Jeff is a real person - or people, in this case. He is a persona of our brand who embodies all of our values - and yours. When you hear from Jeff, you are hearing from all the dedicated people at 4Patriots whose expertise and hard work bring you natural health products that improve your life and add to your freedom and self-reliance.
What is your return policy?
We hope that you'll absolutely love all of our products.
You are fully protected by a 100% money-back satisfaction guarantee.
Here's how it works...
If for any reason you're dissatisfied at any time during the first 365 days after purchase, simply return the product to the original shipping warehouse and ask for a full refund. You'll get your money back. That's a firm promise and commitment.
Return instructions vary depending on the product you are returning. For instructions on returning please read below or feel free to e-mail your question to help@4patriots.com or call us at 800-304-4202 Monday-Friday from 8 a.m. to 7 p.m. CT or Saturdays from 10 a.m. to 4 p.m.
In order to obtain a full refund under this policy, products should be shipped at your expense to the address listed below, and must include your purchase information (such as a copy of the order confirmation we emailed you or at the very least the email address you used when you ordered) so that we can send you the refund, and the products should be in marketable condition (meaning, we could resell them because they're in good condition).
Returned products are NOT subject to a re-stocking fee.
For Patriot Power Cells, HaloXT Flashlights, and Patriot Power Hubs, please return to:
4Patriots
Attn: Returns Department
735 S Auto Mall Dr.
American Fork, UT 84003
For Patriot Power Generators:
Due to government regulations regarding the shipping of lithium-iron-phosphate batteries, our customer support team will be happy to assist in this process. Please contact our team by phone at 800-680-8504 to begin the return process.
For all other products, please return to:
4Patriots
Attn: Returns Department
2449 South 6755 West Suite E
West Valley City, UT 84128
If you have any questions about your return, please e-mail your question to help@4patriots.com or call us at 800-304-4202 Monday-Friday from 8 a.m. to 7 p.m. CT or Saturdays from 10 a.m. to 4 p.m.
If you are returning a product, we would sincerely appreciate an explanation as to why you are dissatisfied. While this is completely optional, the truth is we as a company want happy customers, and the only way for us to improve a product (or process) is to learn from our mistakes. Your total satisfaction is very important to us, and we will do whatever we can to make things right regarding your order.
Can I send my order by mail?
I don't have a credit card, can I send a money order or check?
Yes! Simply request a catalog, or call 1-800-304-4202.
Here's our address in case you need to send a check with the product name and quantity:
4Patriots
1204 Elmwood Ave
Nashville, TN 37212
How can I purchase a gift voucher?
Unfortunately we do not currently offer gift cards or vouchers but hope to in the future.
How can I search to find products on the website?
Yes! Just click in the search field on the top of this page and start typing the product name or browse our selection of products here.
Can you tell me more about your 100% Money-Back Satisfaction Guarantee?
If for any reason you're not satisfied with your 4Patriots product just return it within 365 days (that's a full year) from the day of purchase and we'll refund 100% of your purchase price. No questions asked. That way there's absolutely no risk for you. And you can keep the FREE gifts.
Yes, we do accept Paypal upon checkout.
Phone:
1-800-304-4202 (TOLL FREE)
Hours:
Monday – Friday: 8am – 7pm (CT)
Saturday: 10am – 4pm (CT)
Mail Orders & Other Correspondence:
1204 Elmwood Ave
Nashville, TN 37212
(no product returns)
Email:
help@4patriots.com