FlashFlame Weatherproof Fire-Starter
These NEW waterproof & weatherproof fire-starters can stay lit... even on water!
Giving you a failsafe way to light your grill, firepit, chiminea, fireplace, or campsite. Making it an absolute essential for any emergency preparedness kit.
Waterproof & weatherproof

Food safe & easy to use

Lasts up to 10 minutes

Burns at scorching 750°F

30-year shelf life

50 fire-starting packets

Ships from Utah, USA

FREE Shipping for orders of $97+ (USA 48)
Regular price

Sale price

$24.95

Unit price

per
[NEW] FlashFlame Weatherproof Fire-Starters
"Pocket-Sized" Fire-Starters that Even Work on Water
During an emergency, getting a robust fire started can mean the difference between life and death. Because without fire there's no way to stay warm, create light, boil water, or cook food. So do you really want to place your trust in some old, crusty matches?
With your NEW FlashFlame Fire-Starters, you've got the power of weatherproof fire — right in your pocket. They'll give you a foolproof & reliable way to stay warm & fed during a crisis. (They even work floating on water!) So you can stop spending hours spinning sticks together. Or wasting precious time & energy trying to light a campfire in the wind.
You'll love having your NEW FlashFlame Fire-Starters for...
Camping, hunting & fishing
Power outages
Emergencies
Outdoor holidays
Your bug-out bag
Boiling water for food or coffee
Ooey-gooey s'mores
And much more!
These Fire-Starters could truly make a difference for you and your family in a crisis. Click "Add to Cart" to start your order now.
I Can Rely On This For Warmth
"I went into this a skeptic because I've been affected by poor fire starters several times before. I have more than one story of just being stranded on top of a mountain, wind coming in from every single direction, falling to single digits. And the fire starter that I was relying on failed. But, this one gets an A+ in my book!"
* Real reviews from real customers. Sometimes customers receive a free product to test or receive a free product as a thank you for submitting honest feedback. For more information, see footnote 1.
Fire-Starters That Are 100% Water & Ice-Proof
Your brand-NEW FlashFlame Fire-Starters provide a safe, clean, environmentally friendly way to start a fire. These are a must-have tool for every outdoorsmen or stay-at-home campfire enthusiast. Check out what these powerful little Fire-Starters can do...
Easy to Use
Each FlashFlame comes packed in weatherproof plastic that's easy to light. Simply use a lighter or even a flint starter to get your fire started. Be careful, these Fire-Starters can reach over 750°F!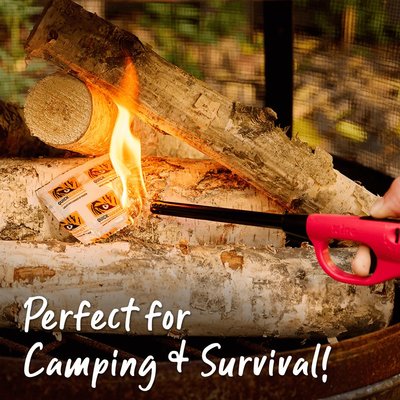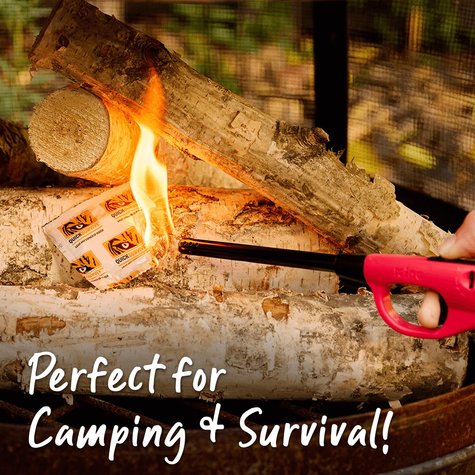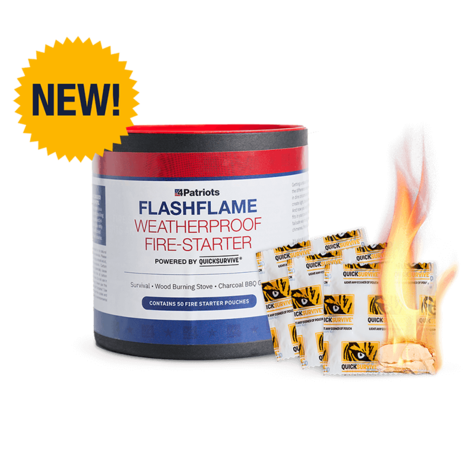 50 Fire-Starter Pouches
Remember, you can also break apart each Fire-Starter into little chunks. Which you can use to create a bunch of mini fires… or save to stretch the life of each pouch. Each pouch burns up to 10 minutes… meaning just burning your pouches alone… will give you 8 hours of fire.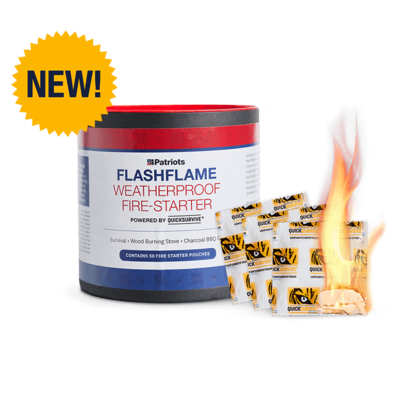 Good up to 30 Years
You can use your Fire-Starters for camping or a backyard BBQ, but these are also an amazing survival tool. They're designed to last up to 30 years. Meaning, they'll be ready for you when you need them the most. Giving you peace of mind for decades to come.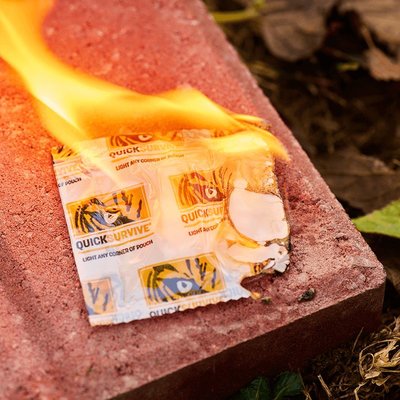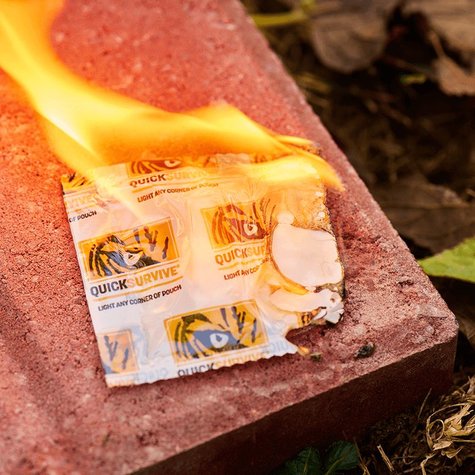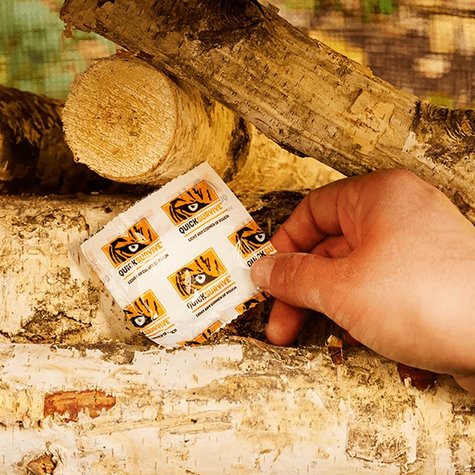 Lightweight & Compact
These pouches are small and very stashable... unlike those big, bulky butane-stove kits. You could fit a few in your pocket, backpack, purse or wherever. They're so compact, they can go anywhere you go.
Perfect & Food Safe for Indoor or Outdoor Use
Check out some of the places you can cook food & stay warm with your NEW FlashFlame Fire-Starters…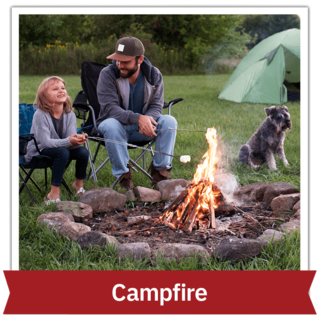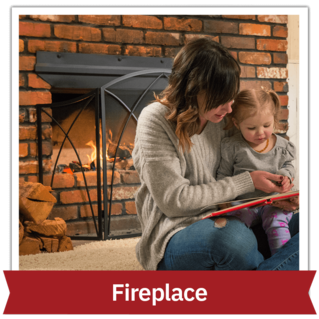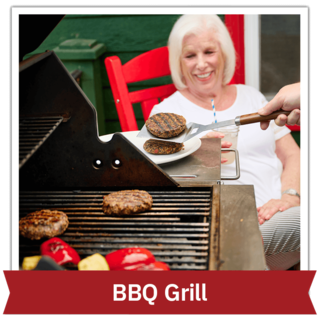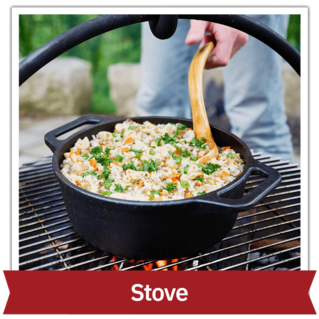 Claim Your NEW FlashFlame Fire-Starters Now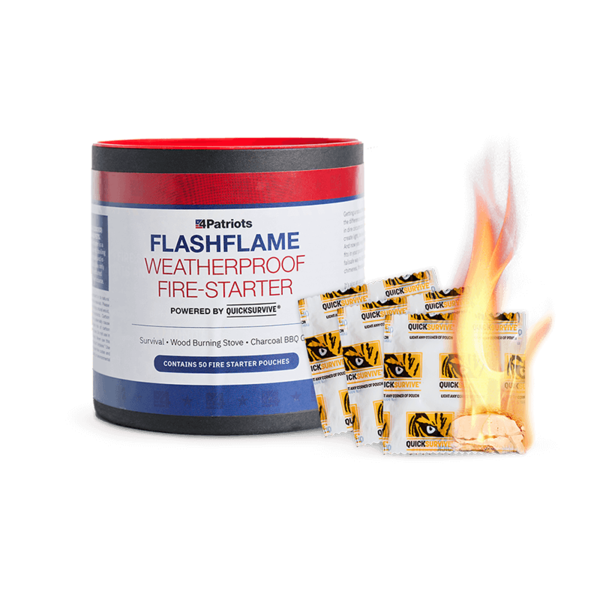 FlashFlame WeatherProof Fire-Starter Information:


100% Satisfaction Guarantee

Claim Your NEW FlashFlame Fire-Starters Now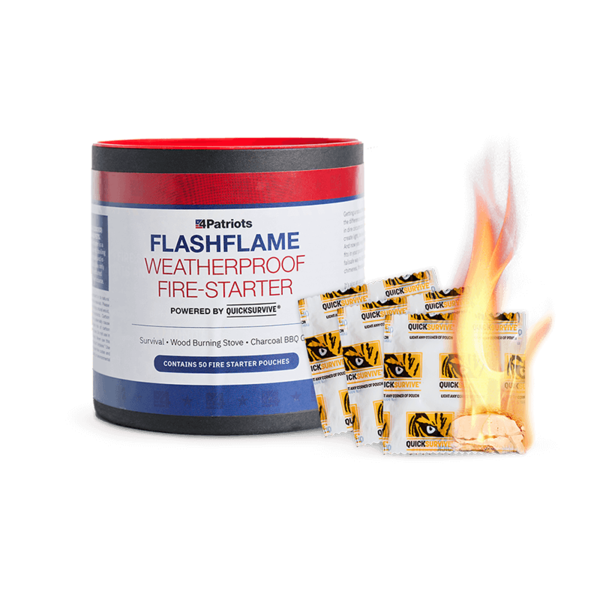 Customer Reviews: Folks Love 4Patriots
"I cannot believe how many items this company has come up with for our comfort & safety in our survival. Every item has a lot of thought & energy involved in protecting us from just about anything. I feel good giving this company my business because I know it's going to a good cause."
Excellent Emergency Products
"4Patriots offers excellent emergency products. Great service and great communication make this company well deserving of your business. 4Patriots makes you feel like you're dealing with a caring family who cares about your family. I will certainly buy future products from them."
* Real reviews from real customers. Sometimes customers receive a free product to test or receive a free product as a thank you for submitting honest feedback. For more information, see footnote 1.
Your 4Patriots Order is 100% Risk-FREE
100% Money-Back Satisfaction Guarantee
If for any reason you're not satisfied with your 4Patriots products, just return them within 365 days (that's a full year) from the date of purchase and we'll refund 100% of your purchase price. So there is no risk to you.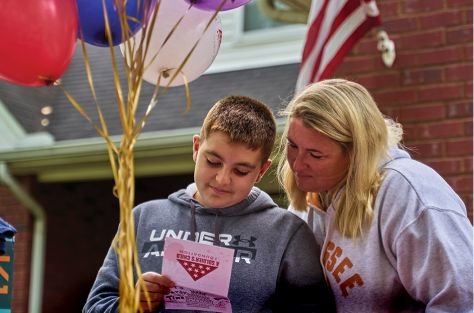 Your Order Helps USA Veterans
When you shop with 4Patriots, a portion of the proceeds goes to charities that support our veterans and their families. Including Operation Homefront, Fisher House, A Soldier's Child-Foundation and Team Rubicon.
4Patriots and our affiliated brands have donated more than $975,000 since we founded the company. And the number keeps growing!
You can feel good knowing that you're supporting our veterans while getting the peace of mind you deserve.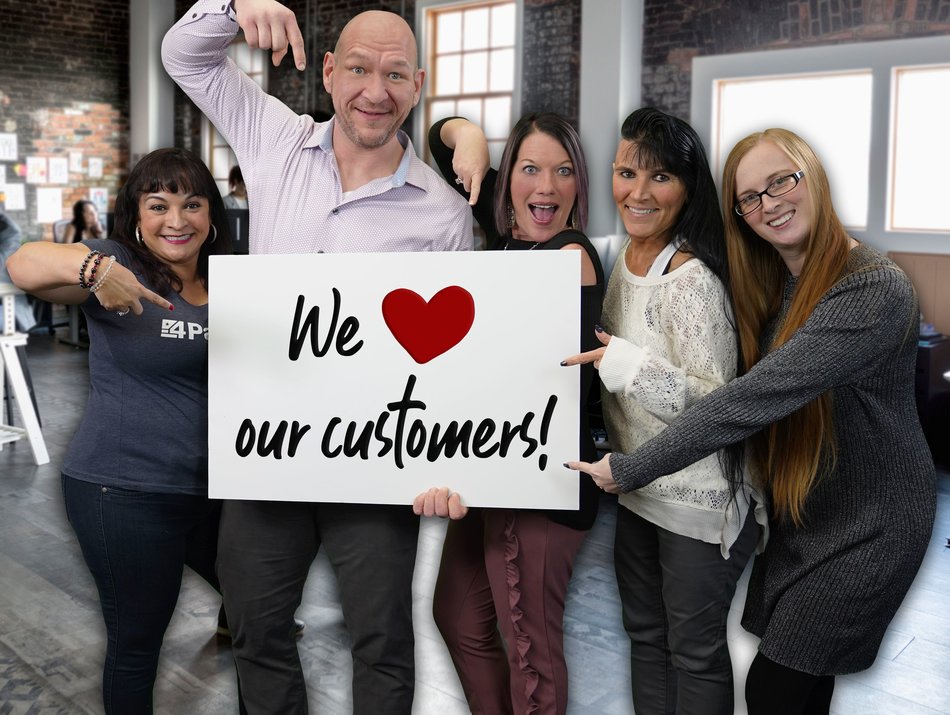 An American Company You Can Count On
Thanks to your support, we're able to employ 175+ American men and women from all across the USA. People who work hard and truly enjoy helping folks get prepared for emergencies.
Our office is located in Nashville, Tennessee. We're real people – Americans. Not some 800 number in a foreign call center.
So, if you need help… please call or chat with our friendly, America-based customer service team today.
Claim Your NEW FlashFlame Fire-Starters Now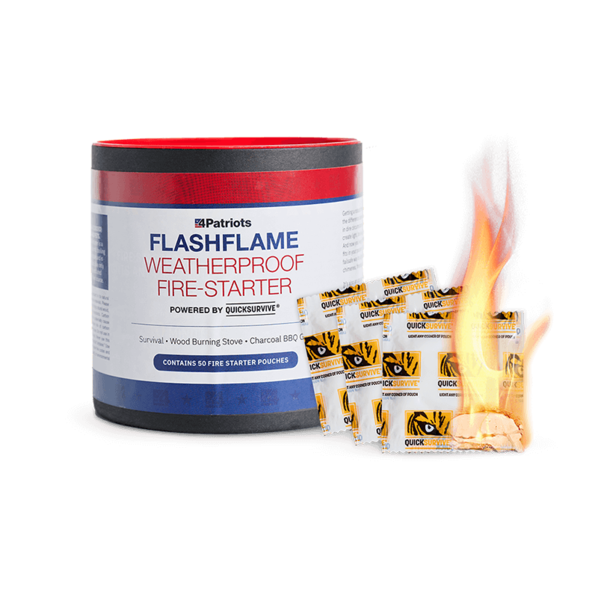 Frequently Asked Questions
Q: How does shipping work?

Q: Is it safe to buy online?

References:
All testimonials in this advertisement are from real people; sometimes names and photos have been changed to protect their privacy and some were given free products in exchange for their honest feedback. Testimonials represent exceptional results, don't apply to the average purchaser and are not intended to guarantee that anyone will achieve the same results. The organizations, publications and people referenced on this site are not affiliated with 4Patriots. They have not endorsed, sponsored or recommended this product; no affiliation or endorsement is claimed. Terms & conditions apply.