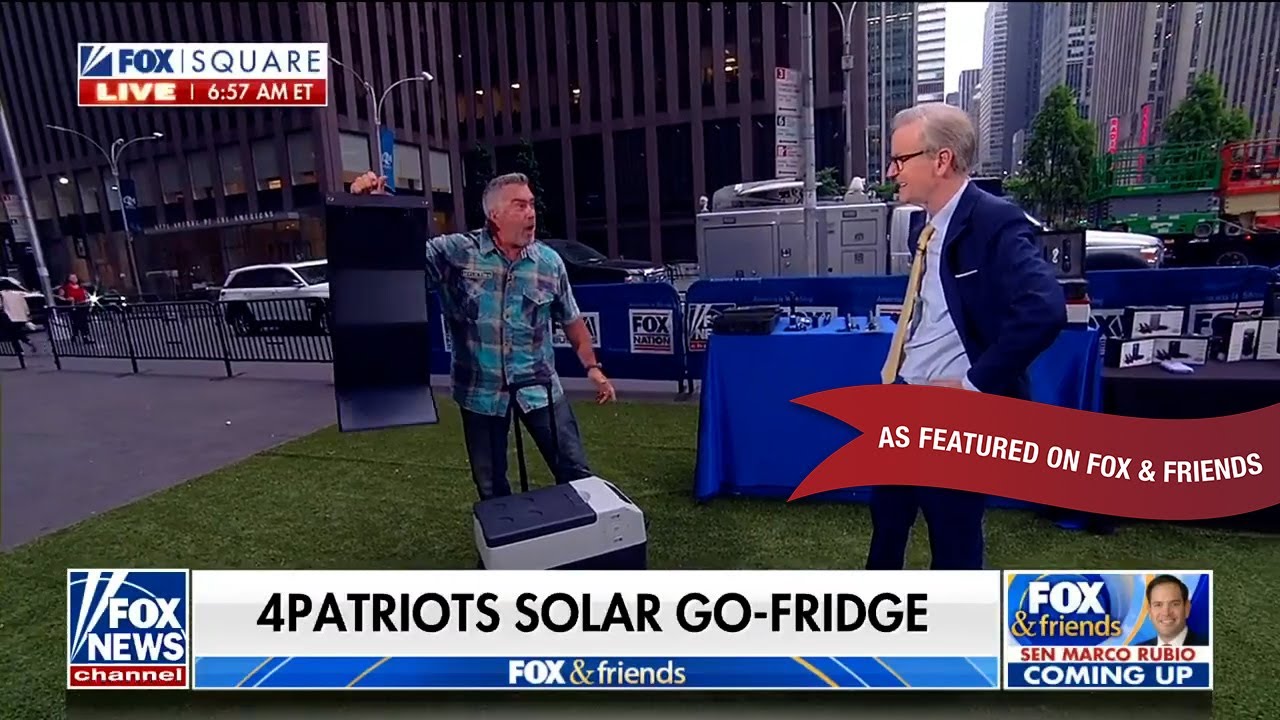 🎄 12 Days of Christmas Event is happening right now! Today you can get $100.00 OFF our best-selling Solar Go-Fridge to keep your fresh food, frozen meat & medicine safe in a blackout. 
Advanced 3-in-1 Solar-Powered Cooler Keeps Food Ice Cold Without Ice. The Solar Go-Fridge® is a solar-powered fridge & deep freezer. Take it with you on road trips, RV adventures & camping. Or use it as a blackout-proof backup fridge. 
It keeps food, drinks & medicine cold without ice. So you spend more time with the family & less time refilling ice.
Advanced thermoelectric technology  
Charges for FREE with the sun
FREE solar panel included
Spacious 42-quart capacity
Hits sub-zero temps — down to -8°
Ships from Utah, USA
FREE Shipping & handling (USA 48)
Want extra juice for your fridge? Grab a backup battery.
Regular price

$897.95

Sale price

$747.95

Unit price

per
4Patriots Solar Go-Fridge
Get a FREE Solar Panel + Rechargeable Battery With Your Portable, Emergency Fridge
When we first released these "fridges on wheels," we expected a good response.
So we set aside 2,000 units as a special introductory batch.
But the response we got was jaw-dropping.
We blew through 1,577 units in the first 30 days!
We should've known it was coming. While other companies make you buy their solar panel separately… our customers got their solar panel for FREE. And since ours also came with an included solar-rechargeable battery, it was a no-brainer for most people.
So, it was at that moment we knew… we had to get more. So everyone could have the same advanced 3-in-1 cooling, freezing and deep-freezing technology.
And now? The Solar Go-Fridge is back in stock.
Folks rave over the advanced technology that keeps your goods ice-cold… without ice! Which means your food won't get soggy & spoiled by melted ice. Even Chip Wade at FOX Weather is impressed with the technology of our Solar Go-Fridge…
No More Soggy Stuff With Ice
"These are hard to make as you can imagine. It's a lot of stuff in a small package but they've done it really well. Not only is it great for poolside or dockside, but when you've got severe weather that comes through, you lose power for a couple days, put it in your RV and take it with you…keep one around the house. It's a great backup... on the go!"
* FOX Weather is not affiliated with 4Patriots: no endorsement is claimed.
This cooling 3-in-1 marvel acts as a fridge, freezer & sub-zero chest all in 1. So you can stash cold drinks & snacks for a ball game. And keep ice cream & popsicles frozen at your campsite. Or protect your expensive groceries from spoiling if you live a long way from a grocery store.
And forget the cords like a regular fridge. Your Solar Go-Fridge is SOLAR powered. Turn blazing-hot sunlight into ice-cold protection with ease.
It's compact enough to fit in small trunks. But spacious enough for your family's favorite meals. Not to mention it is whisper quiet. And with a dead-simple control panel, anyone can use this powerful technology.
Don't forget: your Solar Go-Fridge comes with a FREE solar panel & solar-rechargeable battery. While other companies charge you extra… you get everything you need to run your Solar Go-Fridge on day one.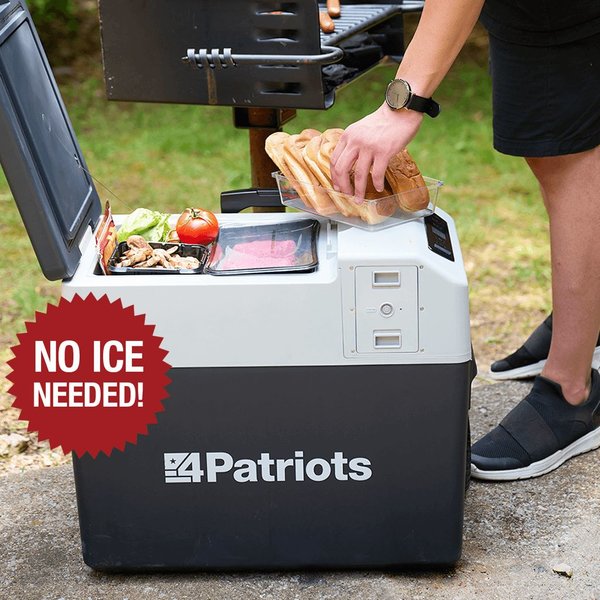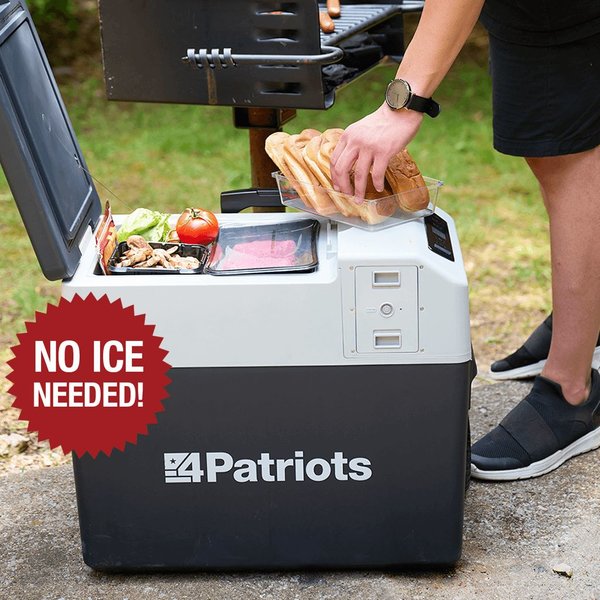 You'll love having your Solar Go-Fridge for...
Family Picnics
Camping
RV Adventures
Blackouts
Fishing & Hunting Trips
Tailgates
Travel
And more!
And now that it's finally back in stock… you can take advantage of its NEW, low price! Click "Add to Cart" to start your order now.
I'm Done With Early Morning Ice Trips!
"You don't have to stop and get ice anymore. That was one thing I hated to do early in the morning when we had to leave to go out of town to play in a baseball tournament. We had to leave at 5 or 6 or sometimes 4:30 in the morning and had to stop to get ice for our cooler. So this is nice because you just have to set it on refrigerator mode & you get your cold drinks or whatever you put in your cooler.
People are already taking pictures with it, trying to find out more information so they could get their own."
* Real reviews from real customers. Sometimes customers receive a free product to test or receive a free product as a thank you for submitting honest feedback. For more information, see footnote 1.
This is NO Ordinary Cooler
Here's what you'll love about your Solar Go-Fridge…
Powerful 3-In-1 Cooling
You get 3 cooling technologies in 1!
Fridge: For fruits, veggies & cold drinks
Freezer: For ice cream, popsicles & ice packs
Sub-Zero: For frozen meats & emergency supplies
Advanced Thermoelectric Technology
The same type of technology that powered astronauts to the moon. And thanks to it — you can keep your food and drinks in temperatures as cold as -8° F. And leave the sopping-wet bags of ice at the corner store.
Charge For FREE Using The Sun
No outlets needed. Your Solar Go-Fridge can recharge fully using only sunlight. So you have a backup fridge that works during blackouts. Or an easy way to keep drinks cold while camping or tailgating.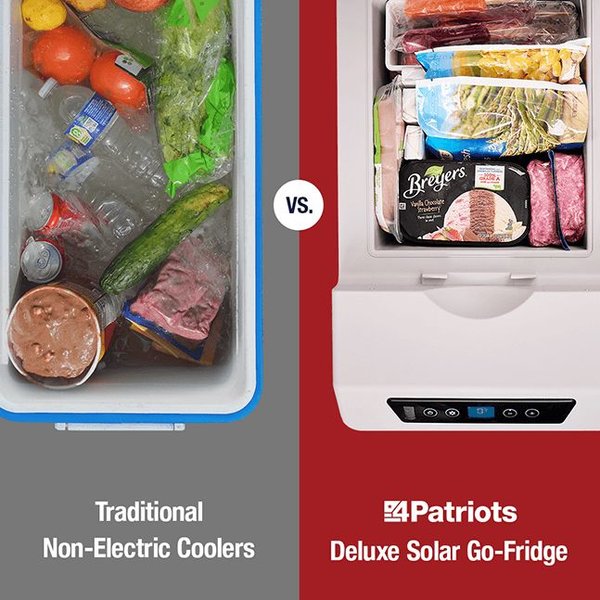 Charge Your Critical Devices
Your Solar Go-Fridge also works as a power bank for your critical devices. Charge up your phone, tablet or other devices without hassle.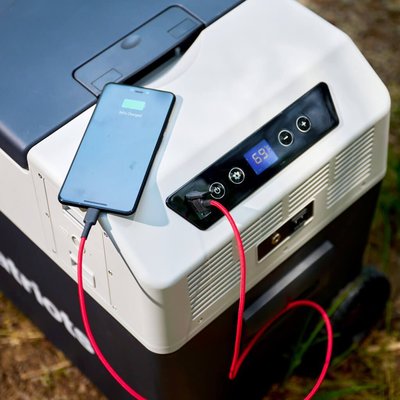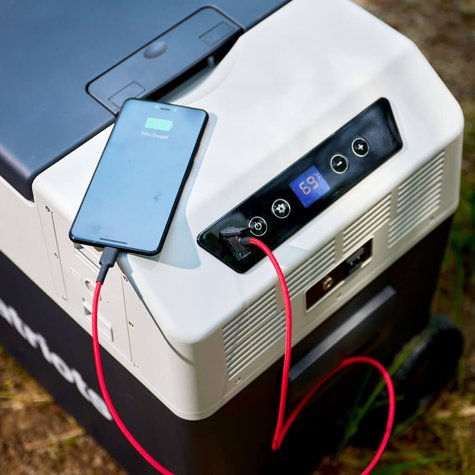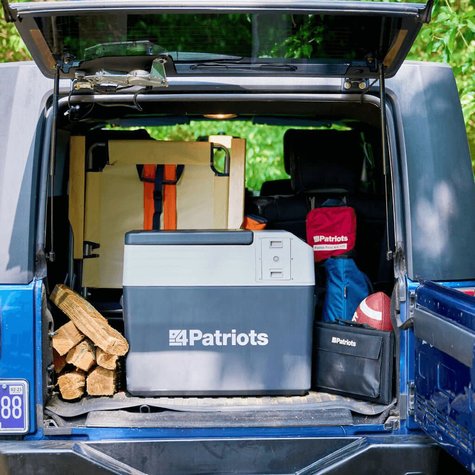 Small Footprint — Spacious Capacity
Compact to fit in smaller trunks. But spacious enough to carry your essentials. And with no ice, you can use all 42 quarts of space on your key goods.
"Fast Charge"
No sun? No problem. You can "fast-charge" your Solar Go-Fridge battery with the included AC cord.


Want an extra battery so one is always fully charged? Click here.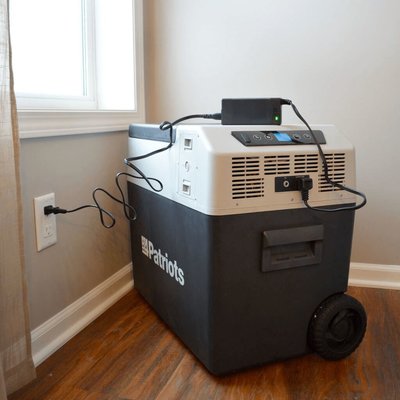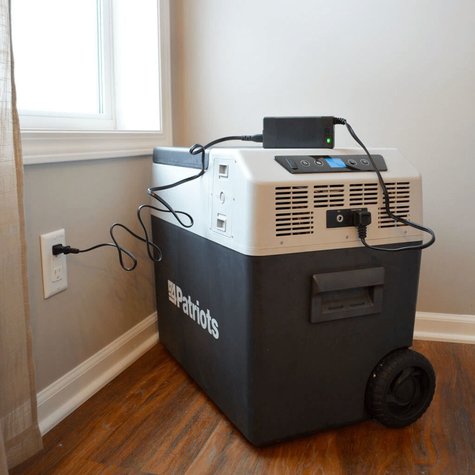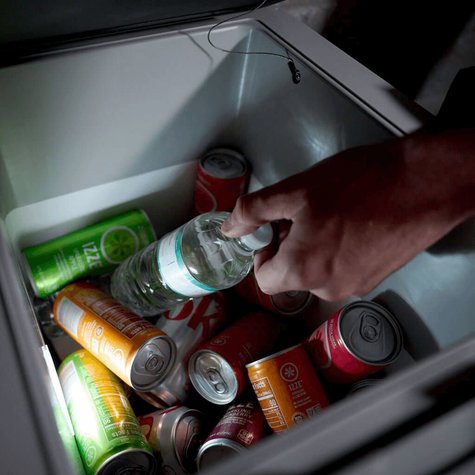 A bright LED light lets you see the important cargo inside your Go-Fridge… critical in a blackout.
And with durable wheels & a retractable handle, you can roll your cooler where you need it with ease.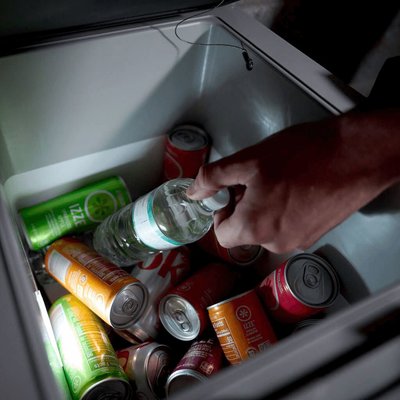 Dead-Simple to Use
And your Solar Go-Fridge is dead-simple to use. The easy-read buttons on the front let you adjust your temperature to fit your needs.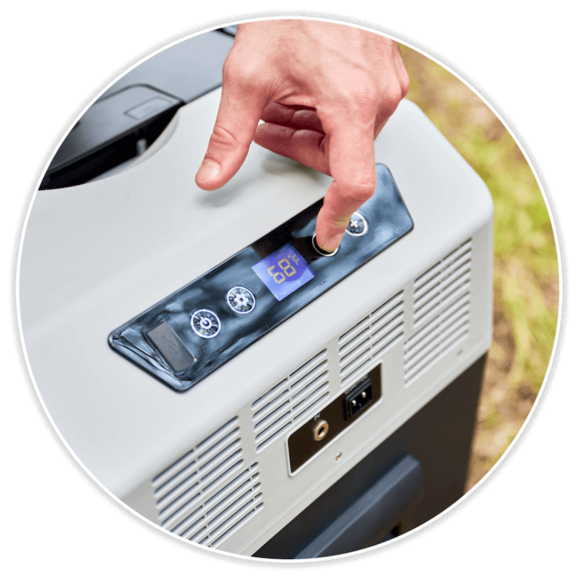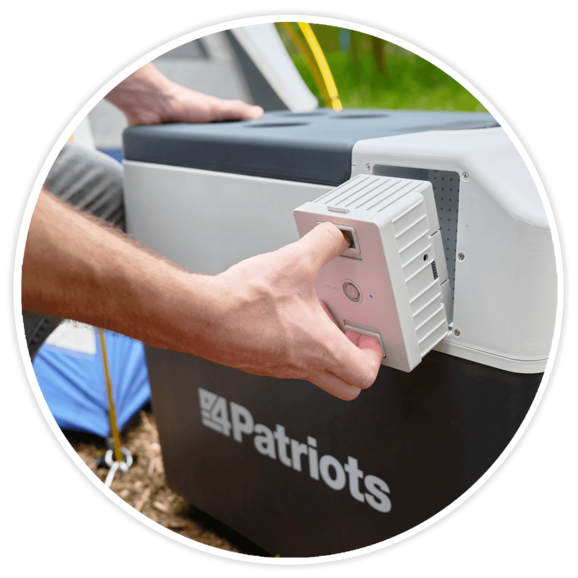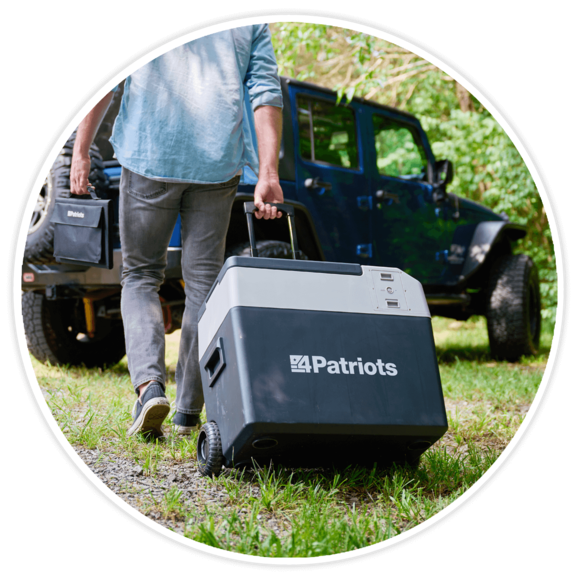 Claim Your Solar Go-Fridges Now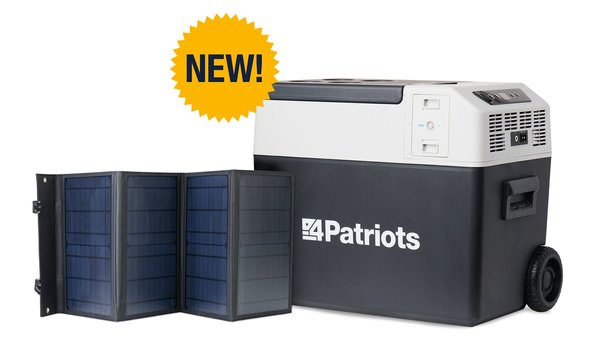 Solar Go-Fridge Information:


100% Satisfaction Guarantee

Claim Your Solar Go-Fridges Now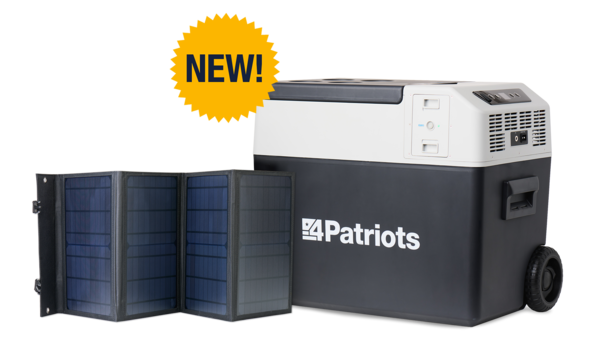 Customer Reviews: Folks Love The Solar Go-Fridge
You Can't Beat This Solar Go-Fridge
"You cannot beat it. It is awesome. No running around, looking for drinks. No more opening up your drink and setting it on the tractor and coming back 20 minutes later and it's warm. Everything's cold. Everything's cold all the time. Just a wonderful, wonderful unit.
I am a Type 1 diabetic. It's been keeping my insulin cold to the point where I don't worry about my insulin. I know it's good."
An Absolute Game Changer for My Family
"We rode around all last summer with a massive cooler and it was awesome but at the same time it was so annoying having to get ice every other day and deal with the melting mess constantly. We love how this Solar Go-Fridge allows us to really dial in an exact temp. Plus it's mobile. It's been such a game changer for our summer van-life."
Van Life Enthusiast
July 2023
"To be completely honest over the past two weeks I have been beating this fridge up non stop to test its reliability and I'm blown away."
* Real reviews from real customers. Sometimes customers receive a free product to test or receive a free product as a thank you for submitting honest feedback. For more information, see footnote 1.
Your 4Patriots Order is 100% Risk-FREE
100% Money-Back Satisfaction Guarantee
If for any reason you're not satisfied with your 4Patriots product, just return it within 365 days (that's a full year) from the date of purchase and we'll refund 100% of your purchase price.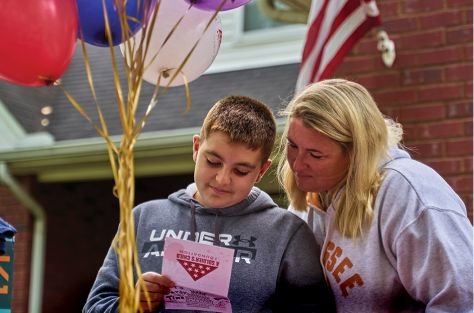 Your Order Helps USA Veterans
When you shop with 4Patriots, a portion of the proceeds goes to charities that support our veterans and their families. Including Operation Homefront, Fisher House, A Soldier's Child-Foundation and Team Rubicon.
4Patriots and our affiliated brands have donated more than $975,000 since we founded the company. And the number keeps growing!
You can feel good knowing that you're supporting our veterans while getting the peace of mind you deserve.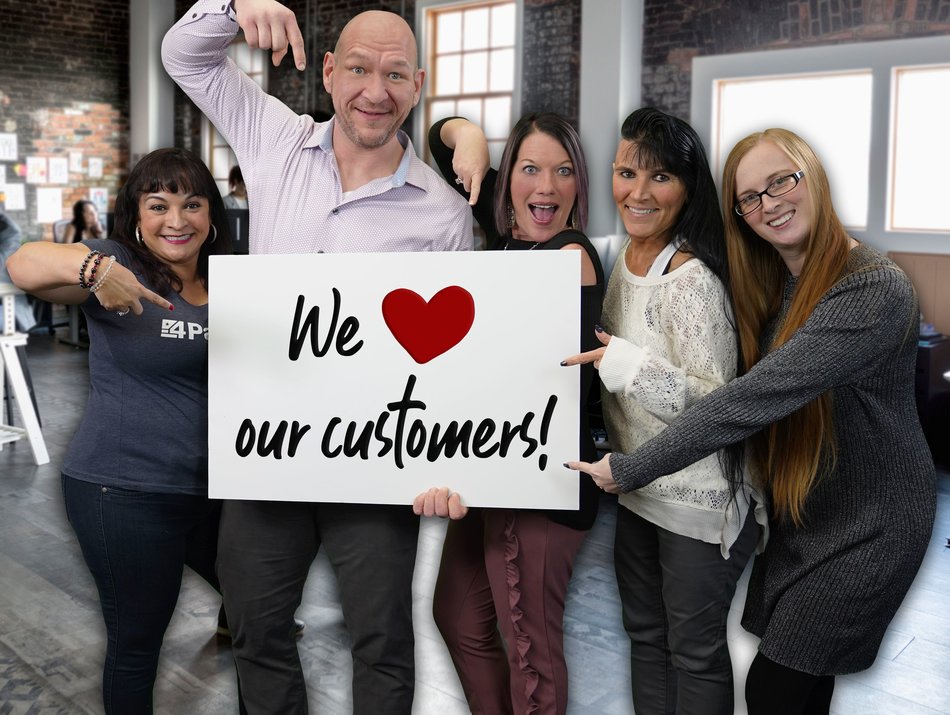 An American Company You Can Count On
Thanks to your support, we're able to employ 175+ American men and women from all across the USA. People who work hard and truly enjoy helping folks get prepared for emergencies.
Our office is located in Nashville, Tennessee. We're real people – Americans. Not some 800 number in a foreign call center.
So, if you need help… please call or chat with our friendly, America-based customer service team today.
Claim Your Solar Go-Fridges Now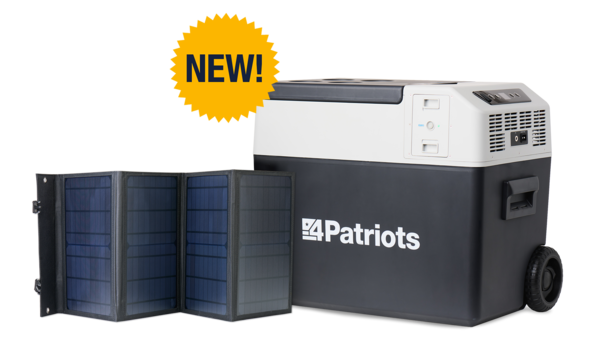 Frequently Asked Questions
Q: How does shipping work?

Q: Is it safe to buy online?

References:
All testimonials in this advertisement are from real people; sometimes names and photos have been changed to protect their privacy and some were given free products in exchange for their honest feedback. Testimonials represent exceptional results, don't apply to the average purchaser and are not intended to guarantee that anyone will achieve the same results. The organizations, publications and people referenced on this site are not affiliated with 4Patriots. They have not endorsed, sponsored or recommended this product; no affiliation or endorsement is claimed. Terms & conditions apply. Cade Courtley is a former Navy SEAL and Platoon Commander who served 9 years of active duty and has been compensated by 4Patriots for his hard work in helping us test and endorse this product.