Patriot Pure Outdoor Filtration System
Cool, safe water anywhere. Your Outdoor Water Filtration System combines filter technology and world-class engineering to keep your water safe, cold and pure… no matter what life throws at you.
Removes up to 99.9% of contaminants*

2-step purification technology

1 Filter = 5,700+ gallons of clean water 

5-gallon insulated tank keeps water cold 

UV-resistant, rotomolded design

Proudly made in USA

9 FREE bonus gifts

FREE Shipping for orders of $97+ (USA 48)
Want to double your flow rate and have additional back up filters? Additional filters are available here.
* Independently tested by a nationally recognized, third-party lab — click here to see the results.
Regular price

Sale price

$399.00

Unit price

per
The Best-Kept "Secret" in Water Filtration
Breakthrough Filter Delivers Delicious & Safe Water
The sad fact is — clear water doesn't mean clean water.
49 million people depend on tap water that's NOT regulated by the government. And the rest of Americans are "protected" by the Safe Water Drinking Act that hasn't been updated in 20 years.4
You can't depend on the the government to make sure your water is safe. But you can depend on THIS…
The Patriot Pure Outdoor Water Filtration System removes up to 99.9% of dangerous contaminants from any freshwater source. Including hard-to-filter toxins your average fridge filters barely touch — like heavy metals, arsenic, pharmaceuticals and more.
How Did We Build The First Water Filtration Cooler… Ever?
First, we gathered a whole lab of scientists to put our gravity-fed filter to the test. In 12 separate tests, containing over 200 contaminants that you definitely don't want in your water… or in your body, QFT Laboratory found the Patriot Pure Water Filter removed up to 99.9% of all pollutants. The lab results speak for themselves.
Next, we gathered a team of emergency-preparedness experts to build a 5-gallon — practically indestructible — water cooler around this world-class filter.
The result? The only...
✓ Made-in-America
✓ Water-filtration system
✓ Rotomolded cooler
✓ That keeps ice for days
✓ And can remove up to 99.9% of harmful contaminants
All in one system. Wow!
This revolutionary filtration system could make a difference for you and your family in a crisis. Click "Add to Cart" to start your order now.
Find the Filthiest Water — This Thing Works!
"If you can find a water source of any kind — it doesn't matter where your basecamp is set up. I take the light, 2-gallon bucket with me to find water and then come back to do the filtration."
* Real reviews from real customers. Sometimes customers receive a free product to test or receive a free product as a thank you for submitting honest feedback. For more information, see footnote 1.
[Watch] Transforms "Sludge" Water into SAFE Drinking Water
The "Secret" Behind This Clean-Water Wonder
A quick look and you might think the Outdoor Water Filtration System looks like most fishing & camping coolers. But hidden inside, there's our 2-step, proprietary filter. Developed right here in the USA.
First, your dirty water meets the outer shell of the filter — a ceramic-hybrid design infused with silver... a natural "super predator" of bacteria.
Next, the inner gravity-fed carbon block filters the majority of contaminants you can't see like...
Bacteria, parasites & viruses
Arsenic
Lead, mercury, chromium 6+
Fluoride, chloride & chlorine
Disinfectants
Herbicides & pesticides like DEET and BHT
VOCs
Chloroform and trihalomethanes
Perfluorooctanoic acid (PFOA) and perfluorooctane sulfonate (PFOS)
And much more!*
And unlike "sponge" filters, your Patriot Pure Water Filter leaves the good minerals in (like the ones in your multi-vitamin). So you get naturally healthy, but pure drinking water.
* Independently tested by a nationally recognized, third party lab — click here to see the results.
5,700+ Gallons of Lifesaving Water
1 filter = 5,700+ gallons of water. ‍Your Outdoor Filtration System gives you 125x more water than a grocery-store pitcher filter… and replaces over 43,000 bottles of water. And at $3.00 per case, you're saving yourself from a Costco bill over $4,000.00. Just on water.
Plus, there's room for up to 4 filters in your Patriot Pure Outdoor Water Filtration System – to speed up the flow rate. So you can get the clean water you need when it matters most.
Rotomolded "Ruggedized" Design
Drop it. Kick it. Take it in the wild. This cooler is as tough as they come. Thanks to its cutting-edge "rotomolded" design.
Unlike square or rectangular coolers you pick up at the corner store — which are typically a few pieces of plastic molded together — our cooler is a single rounded cooler made in a mold with no edges. No imperfections.
Because in coolers, edges make them weak. And susceptible to leaks.
Your Outdoor Water Filtration System is the "Rambo" of Filtration Systems…
✓ Impressive 5-gallon capacity
✓ Keeps ice for days
✓ Bear-resistant latches
✓ Non-slip feet
✓ Leak-proof spigot
And while you don't have to go full-on Rambo in the wild with your Outdoor Water FIltration System — having one of the toughest, most-rugged filtration systems in your kitchen, garage or mudroom should give you peace of mind that you can get safe, clean drinking water no matter what life throws at you.
There's Only 1 Catch…
Most high-end, large-capacity filtration systems cost around $400. And most rotomolded hunting and fishing coolers that keep ice frozen as long as ours start at about $200. And ours does both.
Since we combined these two technologies, naturally, this Outdoor Water Filtration System should combine the prices and cost around $600, right?
Wrong again. Ours is only $399. Plus, FREE shipping.
Patriot Pure Outdoor Water Filtration System Information:
100% Satisfaction Guarantee
Claim Your Outdoor Water Filtration Systems Now
You Get FREE Bonus Gifts with Your Order
You'll get 9 FREE bonus gifts with your order:
[FREE] Patriot Power Cell
Like a mini solar generator... for your phones. Critical power and light to keep you safe & connected to loved ones. Plus, there's a built-in space for it on top of your Outdoor Water Filtration System.
[FREE] Patriot Pure Personal Water Filter
Pure water that fits in your pocket. Access to clean drinking water is essential to survival. Give your family clean, great-tasting, water no matter where you are.
[FREE] 72-Hour Survival Food Kit
Delicious food designed to last for 25 years.* 16 delicious servings and 3,760 total calories (1,253 calories per day).+ America's Finest Mac & Cheese, Creamy Rice & Vegetable Dinner and Grammy's Sweet Oatmeal.
[FREE] Patriot Pure Aqua-Bright Water Bottle
This collapsible water bottle is easy to take anywhere. With the built-in UV light, you can create sanitized drinking water wherever you are. The rechargeable LED light shines through the bottle creating a lantern effect in the dark.
[2 FREE] 5-Gallon Aqua Totes
Your Aqua Totes hold an impressive 5 gallons of water each. That's enough drinking water for one person for a week... or a family of 5 for a day trip. Plus, they fold up into a flat square for easy packing.
[FREE] Personal Water Survival Digital Report
If your access to water is cut off, you need a way to get clean drinking water to survive. And quickly. Here's a step-by-step guide on how to source water, treat it, store it… and make it last.
[FREE] "What's in Your Tap?" Digital Report
A must-read report for "insider info" on what's lurking in your faucet. And DIY solutions on how to AVOID ingesting contaminated water, starting immediately!
[FREE] Shipping & Handling
Even for this big system — that includes 2 water buckets that fit right inside your 5-gallon tank of a cooler... we'll pay for that too. We'll ship your Outdoor Water Filtration System straight to your door, totally free.
Your Patriot Pure Outdoor Water Filtration System and FREE bonus gifts could truly make a difference for you in a crisis. Click the "Add To Cart" button below.
24 Hours a Day / 7 Days a Week / 365 Days a Year
+ You may want or need more calories or nutrients per day. For more information, see footnote 2.
* 25-year shelf life under proper storage conditions. Excess heat and/or damage to packaging may decrease shelf life. For more information, see footnote 3.
Customer Reviews: Folks Love The Outdoor Water Filtration System
We Turned Mucky Pond Water Crystal Clear!
"We have no running water or electricity on our off-grid property. With this, we can have nice clean water for the whole weekend when we go camping. We tested this on green, murky water from the pond. After about an hour, it came out clear and kid-approved!"
I Drank From The Rain Barrel In My Garden
"This thing is hard core — super heavy-duty and durable. I filtered non-potable water from our rain tank. It tastes very clean and clear just like any regular filtered water. Having the ability to filter water anywhere is a lifesaver."
* Real reviews from real customers. Sometimes customers receive a free product to test or receive a free product as a thank you for submitting honest feedback. For more information, see footnote 1.
Your 4Patriots Order is 100% Risk-FREE
100% Money-Back Satisfaction Guarantee
If for any reason you're not satisfied with your Patriot Pure products, just return them within 365 days (that's a full year) from the date of purchase and we'll refund 100% of your purchase price.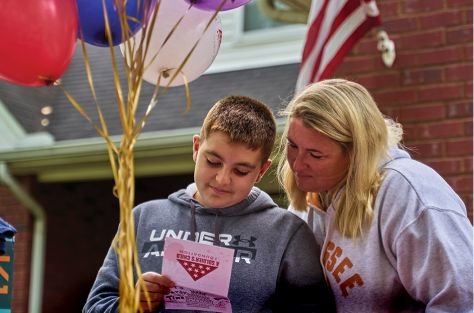 Your Order Helps USA Veterans
When you shop with 4Patriots, a portion of the proceeds goes to charities that support our veterans and their families. Including Operation Homefront, Fisher House, A Soldier's Child-Foundation and Team Rubicon.
4Patriots and our affiliated brands have donated more than $620,000 since we founded the company. And the number keeps growing!
You can feel good knowing that you're supporting our veterans while getting the peace of mind you deserve.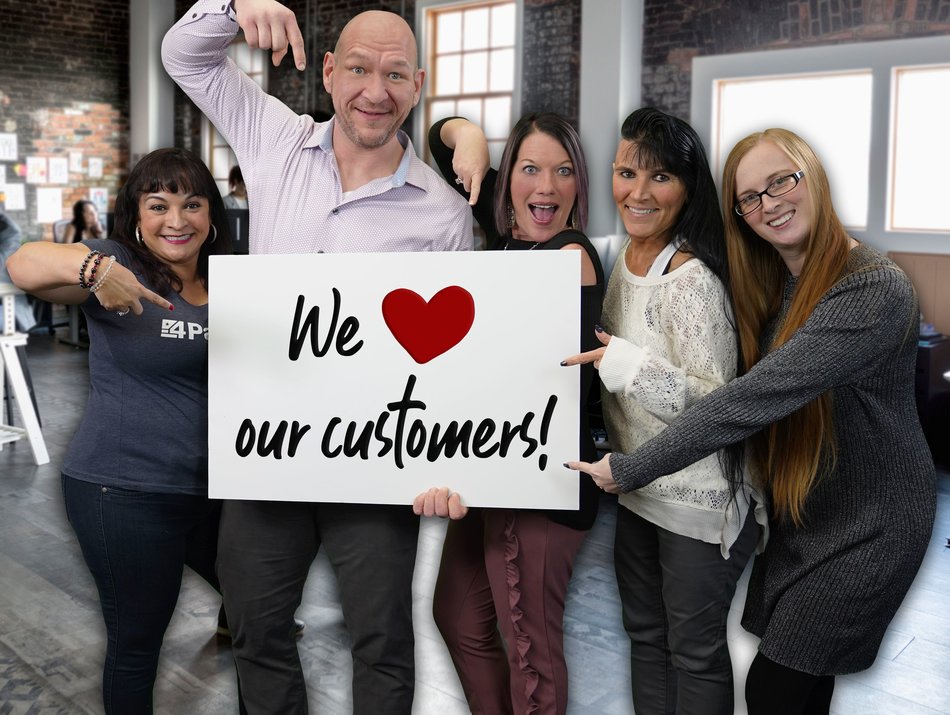 An American Company You Can Count On
Thanks to your support, we're able to employ 175+ American men and women from all across the USA. People who work hard and truly enjoy helping folks get prepared for emergencies.
Our office is located in Nashville, Tennessee. We're real people – Americans. Not some 800 number in a foreign call center.
So, if you need help… please call or chat with our friendly, America-based customer service team today.
Claim Your Outdoor Water Filtration Systems Now
Frequently Asked Questions
Q: How does my Patriot Pure Outdoor Water Filtration System keep me protected?
Q: Can't I just buy bottled water?
Q: What if I change my mind?
Q: How does shipping work?
Q: Is it safe to buy online?
References:
All testimonials in this advertisement are from real people; sometimes names and photos have been changed to protect their privacy and some were given free products in exchange for their honest feedback. Testimonials represent exceptional results, don't apply to the average purchaser and are not intended to guarantee that anyone will achieve the same results. The organizations, publications and people referenced on this site are not affiliated with 4Patriots. They have not endorsed, sponsored or recommended this product; no affiliation or endorsement is claimed. Terms & conditions apply.

These kits are designed to provide energy and nutrients for one person in stressful emergency situations. They are not intended to be complete caloric replacements during "normal" times. You'll want to make sure you have additional food items on hand so that in an extended emergency you'll be able to supplement your daily calorie intake, nutrients and variety with additional food items available on this site, food you have stockpiled in your pantry, fresh produce from your garden, etc. An average adult needs approx. 2,000 calories per day to meet their energy needs. This kit provides approximately 1,253 calories per day for one person.

This

may not be enough for optimal nutrition, especially for an extended period of time, or if you're pregnant, a child, elderly, or have other health conditions.

In order to supplement your daily calorie intake, to add variety or to provide food for more than one person, we offer a number of supplemental products, including food bars, meat packs, fruit and vegetable packs, etc. By combining our kits with these additional products, you can ensure that you have 2,000 calories per day available to you during emergency situations. We'd be happy to discuss your particular preparedness goals, and to help you select more or less survival food to meet your unique needs. Call

1-800-304-4202

to speak with our friendly Customer Service team.

Your survival food is designed to last 25 years on the shelf. Storage conditions impact the shelf life of your food. For best results, always protect your food from heat, air and moisture. Avoid prolonged exposure to temps above 75 degrees F. Keep food sealed until ready to eat. Shelf life will vary based on storage conditions.

CDC. "Picture of America Drinking Water Fact Sheet." 2017

FEMA. "Disaster Planning Is Up To You." 2018.