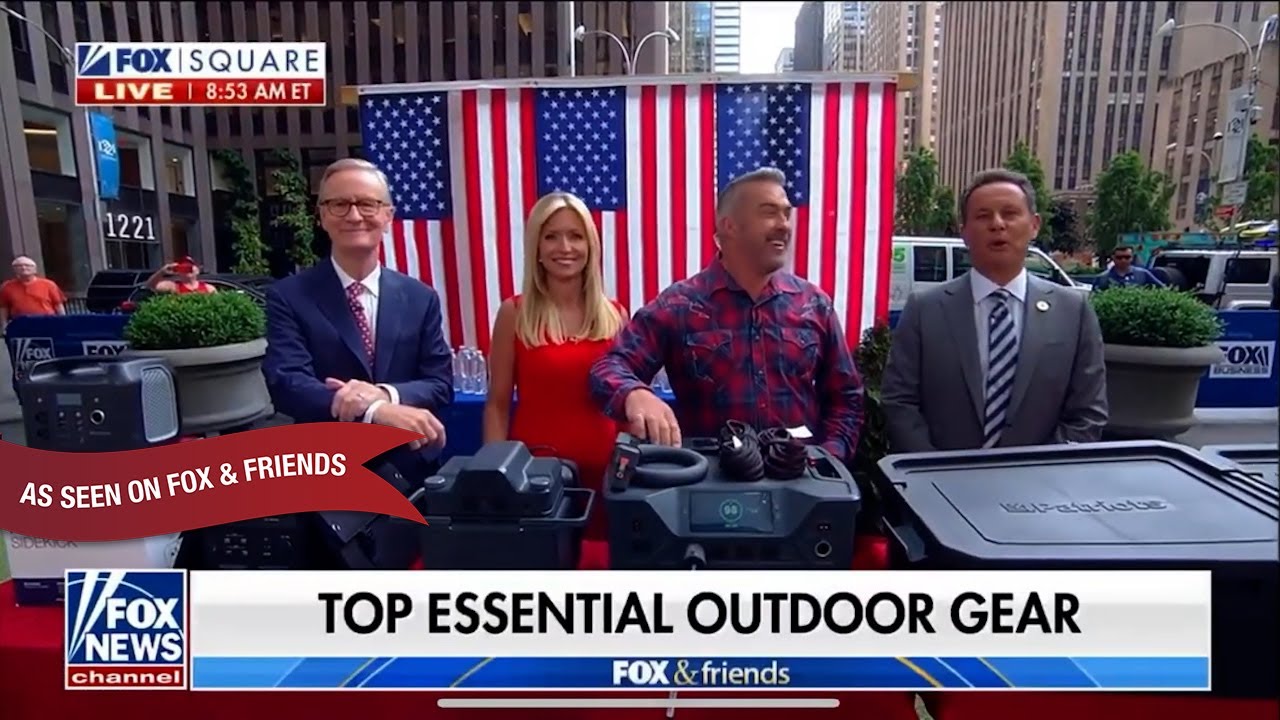 Patriot Power Generator 2000X
NEW & Improved: Solar generator charges more devices for longer in a blackout. With double the capacity & more peak power than before! Plus, new expandable capability, for even more power. 
Worth its weight in gold in dangerous blackouts and charges in the sun. FREE solar panel included. Portable, silent, fume-free and safe to use inside your home. Now expandable when you add a Patriot Power Generator 2000X Expansion Pack.
[NEW] More continuous power

… to run more at once

[NEW] More peak power

… to power bigger appliances

[NEW] Expandable... add more capacity for longer run-times

[NEW] More outlets

… to power more devices in a crisis

Power your fridge, TV & medical devices

FREE Solar panel included
FREE Shipping & Handling (lower 48)

Easy monthly payment plan

365-Day money-back satisfaction guarantee

Works perfectly with the Expansion Pack and Platinum Upgrade.
Regular price

Sale price

$2,999

Unit price

per
NEW & Improved Patriot Power Solar
Generator 2000X
Hurricanes, wildfires and freak storms happen more every year…
In the last 20 years… 83% of blackouts in the USA are weather-related. And that's getting worse. Outages in the past 10 years increased by 64% compared to the previous decade.
The storms are getting stronger, too. When Hurricane Sandy hit… 21 states experienced widespread blackouts. Recently, 325,000 people in Austin, Texas lost power for days when a massive ice storm hit. Folks dove into dumpsters to scavenge for spoiled food.
As a nation… Americans aren't adequately prepared.
We're so dependent on our electrical supply... that when it suddenly fails, we panic! People forget how to function until the lights come back on.
Every day the aging grid is more vulnerable to weather, spikes in demand or even… a manmade attack.
When it falls — the results would be devastating.
Imagine a blackout lasting not days, but weeks or months. Your life — frozen in time — right at the moment your power fails.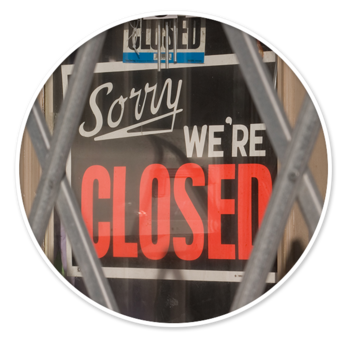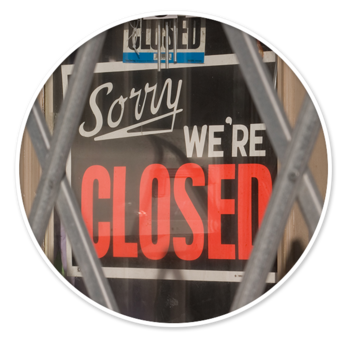 Every appliance you rely on would be dead. The food in your fridge and freezer — spoiled.
Your well couldn't pump fresh water into your house. And even if you don't have a well, a total grid failure means no fresh water to drink, cook or clean with… or let's face it. FLUSH...
Stoplights would stop working. Public drinking- water facilities, too. And gas stations couldn't pump.
This is not some crazy doomsday theory. It's a real threat...
When it Comes to Backup Power, Choose Wisely
Sure, you could get a gas generator. But they make a TON of noise — and draw unwanted attention when discretion is a must.
Plus, storing fuel is dicey. Gas stations could sell out. And the fumes are dangerous.
The U.S. Consumer Product Safety Commission (CPSC) reports gas generators kill more than 85 Americans every year. And injure thousands more.2 It warns that portable gas generators are among the deadliest consumer products.
And yet, the government refuses to do much. The people in power in Washington D.C. sit idly by. And innocent Americans fend for themselves.
It's clear… it's up to you to make sure your family has the power, food and warmth to keep them safe and comfortable.
You need to know without a doubt, that when a crisis hits… your family will be ready.
And that means being as energy independent as possible.
You need a backup power source that's fume-free and whisper-quiet. Not a liability that could attract attention... or worse.
You need something you can depend on.
So what's the answer?
A New Generation Of Portable, Safe, Silent & 100% Fume-Free Generators
Now With Double the Power To Protect Your Family in a Dangerous Blackout...
After months of hard work with our team of engineers in Utah...
Countless hours of testing, electrical engineering and breakthrough battery design...
Introducing for the first time ever our NEW & improved Patriot Power Generator 2000X.
A nearly endless supply of life-saving backup power when you need it most.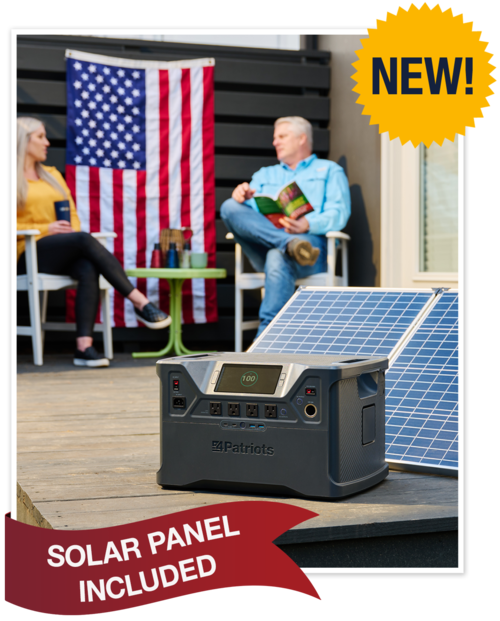 The NEW Patriot Power Generator 2000X is finally in stock and ready to ship from Utah, USA. But hurry, because the 864 units in our introductory run sold out in just a few days.
Secure yours right now, and power your:
Fridge: Keep your food safe
Microwave: Warm up a meal
CPAP: Sleep better at night
Medical Devices: Survive the storm
Phones: Call family & friends
Lights: Remain calm in a crisis
TV: Stay connected & alert
Space Heater: Stay warm
Security Lights: Scare off looters
RV & Tailgating: Griddles, speakers & more…
This NEW & improved solar generator could truly make a difference for you and your family in a crisis. Click "Add to Cart" to start your order now.
Over 150,996 Americans Took Steps to Protect Themselves & Their Families
Hear From Real 4Patriots Solar Generator Owners…
* Real reviews from real customers. Sometimes customers receive a free product to test or receive a free product as a thank you for submitting honest feedback. For more information, see footnote 1.
DOUBLE the Battery Capacity & 2,000 Watts of Power — To Run More Devices Longer
Now With a Bigger Battery For More Power & Longer Run Times
Our NEW solar generator now has 2X the battery capacity. Lets you add more power with our NEW expansion pack (sold separately). AND has 2,000 watts of continuous power — more than the best-selling 1800 model.3 Wow.
So you get more power for longer... and can run more devices than ever before.4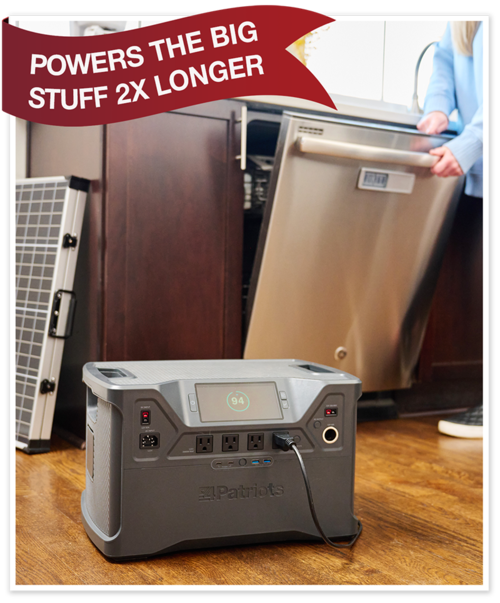 You get all the features that made this a best-seller… plus MORE peak power and "fast charge" outlets…
[NEW] Even MORE Battery Capacity So You Can Use it Longer
The 1 "complaint" we got about the Patriot Power Generator 1800... "I want more power!"
Mission accomplished — you now get up to 1612 Wh of stored power. The Patriot Power Generator 2000X has twice the battery size, to run your devices twice as long. And you'll love your NEW generator twice as much...
Especially when you see what you can power on a single battery charge:
Run Times for Common Appliances: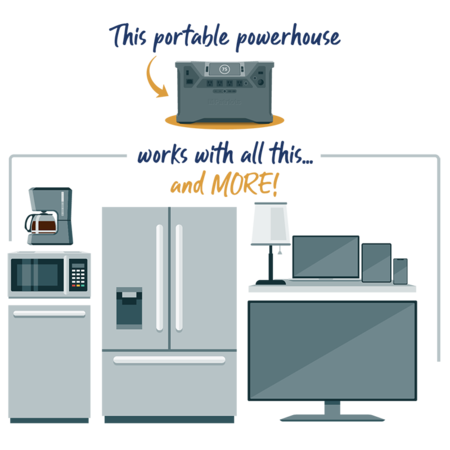 Full-Size Fridge
Mini Fridge
Chest Freezer
Laptop
CPAP Machine
LED Lamp
Phone
Dishwasher
Television
Microwave
40 Hours
223 Hours
32 Hours
35 Hours
32 Hours
403 Hours
322 Hours
54 Minutes
22 Hours
2 Hours
* Run times are approximate. Actual results vary based on appliance and usage conditions. Fridge/Freezer estimate assumes that an appliance starts cold and cycles per CDC recommendations. For more information see footnote 2.
Just imagine… on 1 single generator charge you can…
Recharge your phone 161 times
Heat up 54 microwaveable dinners
Keep your lights on for 2 weeks straight
[NOW Expandable] Nearly Double Your Battery Capacity... Again
Plug our NEW Expansion Pack into your Patriot Power Generator 2000X... and boom.
Nearly double the power of your solar generator instantly.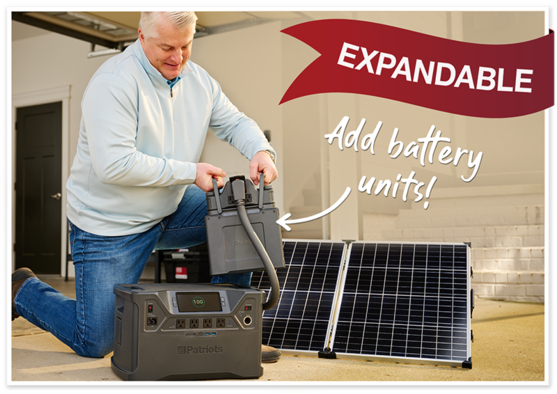 It's a mini generator, for your solar generator. And we're offering it for the first time ever.
Some competitors brag about "more power," but only want you to keep swiping your credit card. And buy 2... 3... sometimes 7 extra solar panels for one unit. Spoiler: that cuts your charge time — it does NOT add power.
Not like ours. Thanks to seriously special engineering, you can now add our NEW Expansion System (sold separately) to:
Run even more devices for longer
Use as its own mini generator
[NEW] 31% More Peak Power
Don't let its size fool you. Now, the Patriot Power Generator 2000X can handle up to 4,000 watts of peak power — WOW! That's a full 31% gain over the best-selling 1800 model, thanks to this better-than-ever technology. So your solar generator can handle a wider variety of appliances.
[NEW] 2,000 Watts of Continuous Power — to Run More Appliances
The Patriot Power Generator 2000X now has a continuous output of 2,000 watts. If an appliance uses 2,000 watts of power or less, your NEW solar generator can run it.
Most appliances like your fridge and freezer fall into this group. And now, this power upgrade allows your generator to run these NEW devices — pending their unique power consumption:
Water pump
Washing machine
RV air conditioner
Power outages can last days, or even weeks. Creature comforts like clean clothes and a blast of cool air can keep spirits up and panic at ease. This could make or break your family in a crisis.
But to be clear... this is NOT a full-house solution. The Patriot Power Generator 2000X was designed to help keep you alive when the "worst-case scenario" occurs. When that happens, you'll have to adopt a survival mindset, and only use essential items.
[NEW] User-Friendly Screen & Buttons
Take the guesswork out of your safety in an emergency with:
Bright & angled LED screen
On-screen troubleshoot support
Precise data on power input & output
Battery charge & discharge rate — so you know exactly how long your device will run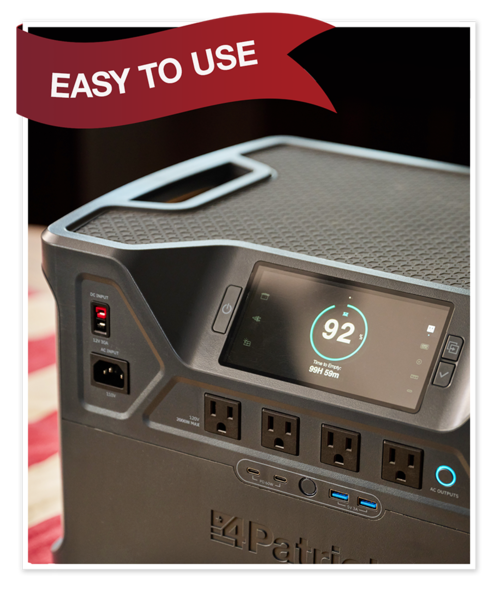 Advanced-Engineered Battery Technology
Safe, Long-Lasting LifPo Battery — Recharge Over 2,500 Times
Inside your solar generator there's a powerful lithium-iron-phosphate battery famous for its stability. This is where the magic happens, folks!
Inferior generators use subpar batteries… like lead. They're only good for 1,000 battery cycles at most. And overcharging them could result in a dangerous, hydrogen-sulfide leakage. A colorless gas that could poison your family.
Your NEW Patriot Power Generator 2000X is reliable, powerful, most importantly — safe.
In fact, you can fully drain and recharge your Patriot Power Generator 2000X over 2,500 times. While retaining at least 80% of its capacity. That's 6.8 years of daily use. That's about 4X the life of most generator products!
Don't waste your money and peace of mind on the "cheaper" options. That could be costly in the end.
Compact, Portable and Easy to Use… Right Out of the Box
Your generator arrives charged and ready to go. There's no assembly required… you can start using it right away.
Here's a few things we upgraded:
Front-facing plugs
Easy to grip handles
Flat top to make it stackable
Power cord holder for easy storage
At about 60 pounds, you can take your generator with you. Especially if you need to "leave home in a hurry" — this portability is a huge advantage over other types of backup power.
Included Commercial-Grade, 100-Watt Folding Solar Panel
Most of our competitors don't do THIS...
Our 100-watt solar panel comes FREE with your generator. No catch. You'll get a rugged, durable metal solar panel with reinforced corners. Made to last. Plus, it folds easily for discreet storage and includes a sturdy carrying handle so that you can take it anywhere.
Claim your FREE solar panel with your Patriot Power Generator 2000X below. All on an easy payment plan.
Easy as 1… 2… 3!
You don't need to be a gadget person to use your Patriot Power Generator. Three simple steps and you'll be up and running:
1. Unfold & set up solar panel in sunlight
2. Plug your solar panel into the generator
3. Plug in & power your devices with the sun
Every Patriot Power Generator comes with a detailed User Guide to walk you through all the ins-and-outs… and our in-house technical advisors are just a phone call away. You can call them for FREE for as long as you own your Patriot Power Generator.
[NEW] More Outlets for NEW Devices
Power small appliances, fans, TVs and laptops with a total of 4 AC outlets (2 more than the previous model).
Plus, 2 "fast charge" USB-C plugs for modern phones and laptops. These special outlets charge smartphones 20X faster than regular USB-A plugs — which could mean the difference between a call to a loved one and a dead paperweight in an emergency.
And to make sure that your generator is ready to handle all your critical devices, you'll still get:
"Fast Charge" Using Included AC Cord
Charge your Patriot Power Generator 2000X in as few as 6 hours via AC cord! And there are more ways to charge up your generator, too.
More Charging Options
Advanced-engineered Maximum Power Point Tracking (MPPT) comes standard with the Patriot Power Generator 2000X. You can recharge your way — it's totally your call.
"Fast charge" with the included AC cord
Charge for FREE with the sun, using the included solar panel
And thanks to the MPPT technology, now you can charge with a hand-crank, bicycle, wind turbine, windmill — whatever!
If you're a DIY person or enjoy homesteading, you'll "geek out" over this new feature.
NEW Patriot Power Generator 2000X Information:


100% Satisfaction Guarantee

Claim Your NEW Patriot Power Generator 2000X Now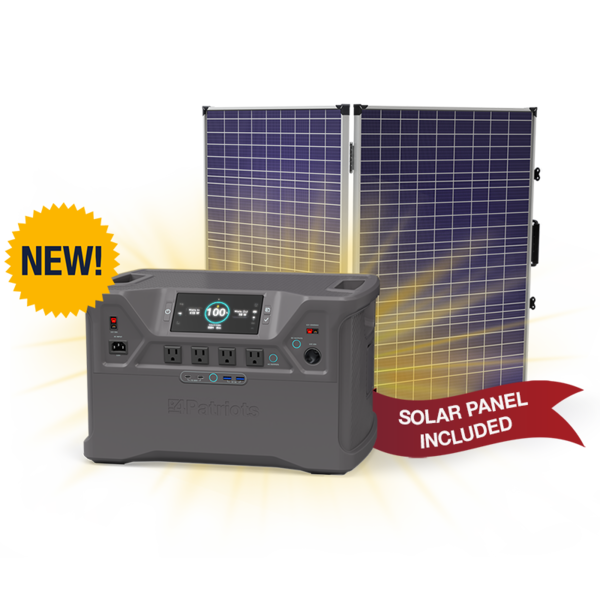 Customer Reviews: Folks Love Our Solar Generators
Here's Your Lifeline for the Next Blackout
"I can run my refrigerator for about forty hours before I have to recharge this. So for you folks that have insulin or other life saving medicine that you might have to keep refrigerated. Or if you have hundreds of dollars worth of meat in your freezer in here. This could be a lifesaver for you."
"I used my Patriot Power Generator during Hurricane Ian. I find regular generators annoying, but this ran my fan quietly all night, and nothing in my freezer went bad! I've already had quite a few people ask me where I got this. I tell them, instead of having to worry about gas or propane, Florida's got the sun — hello! Use it!"
* Real reviews from real customers. Sometimes customers receive a free product to test or receive a free product as a thank you for submitting honest feedback. For more information, see footnote 1.
Your 4Patriots Order is 100% Risk-FREE
100% Satisfaction Guarantee
Try your solar generator in your home for a full year. Put it to the test! Charge it up and drain it down. Get to know your solar generator and what it can do for you. If it doesn't do everything we said it does or if you're unsatisfied for any reason, return it.
Here's how it works.
If, for any reason, you're dissatisfied at any time during the first 365 days after purchase, return the product to the original shipping warehouse, and you'll receive a refund minus any shipping fees. You'll get your money back. That's a firm promise and commitment.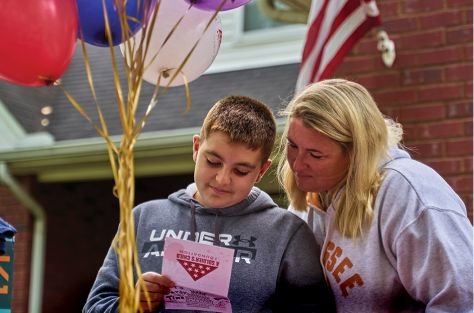 Your Order Helps USA Veterans
When you shop with 4Patriots, a portion of the proceeds goes to charities that support our veterans and their families. Including Operation Homefront, Fisher House, A Soldier's Child-Foundation and Team Rubicon.
4Patriots and our affiliated brands have donated more than $975,000 since we founded the company. And the number keeps growing!
You can feel good knowing that you're supporting our veterans while getting the peace of mind you deserve.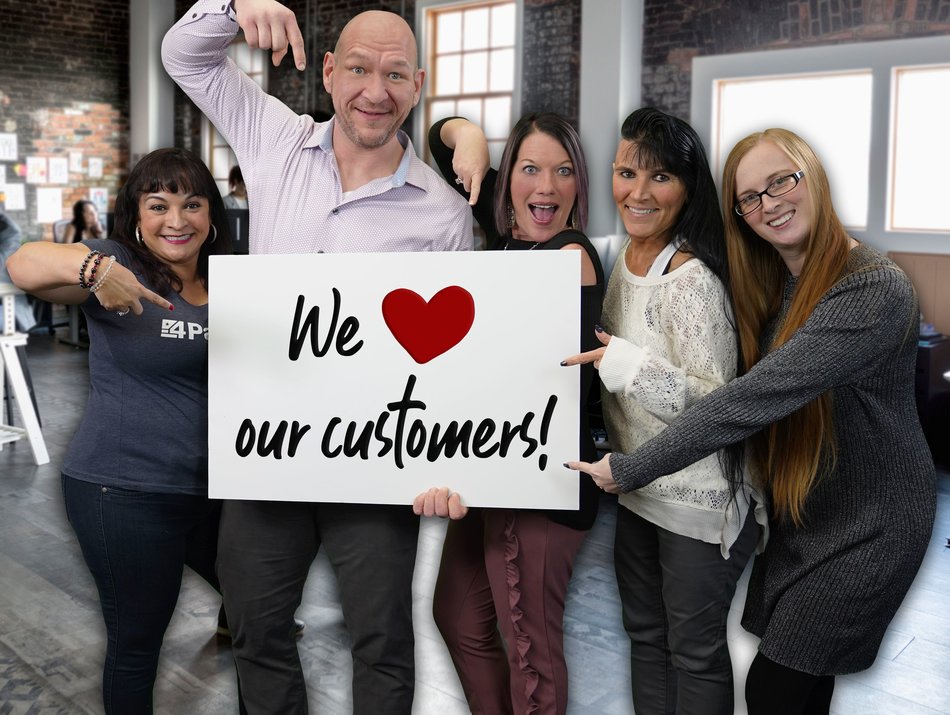 An American Company You Can Count On
Thanks to your support, we're able to employ 175+ American men and women from all across the USA. People who work hard and truly enjoy helping folks get prepared for emergencies.
Our office is located in Nashville, Tennessee. We're real people – Americans. Not some 800 number in a foreign call center.
So, if you need help… please call or chat with our friendly, America-based customer service team today.
Claim Your NEW Patriot Power Generator 2000X Now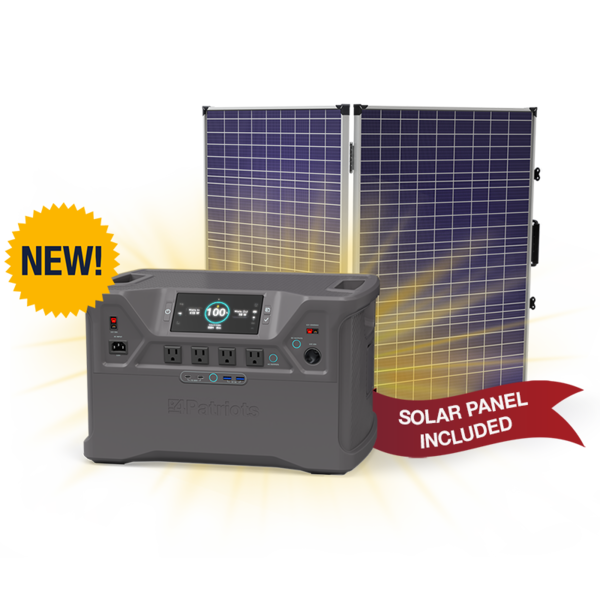 Frequently Asked Questions
Q: Is the battery capacity expandable?


Q: How fast can it solar charge?

Q: What can I run on my Patriot Power Generator 2000X?

Q: How does the payment plan work?

Q: How does shipping work?

Q: Is it safe to buy online?

References:
1. All testimonials in this advertisement are from real people; sometimes names and photos have been changed to protect their privacy and some were given free products in exchange for their honest feedback. Testimonials represent exceptional results, don't apply to the average purchaser and are not intended to guarantee that anyone will achieve the same results. The organizations, publications and people referenced on this site are not affiliated with 4Patriots. They have not endorsed, sponsored or recommended this product; no affiliation or endorsement is claimed. Terms & conditions apply. Cade Courtley is a former Navy SEAL and Platoon Commander who served 9 years of active duty and has been compensated by 4Patriots for his hard work in helping us test and endorse this product. Cade Courtley is a former Navy SEAL who served 9 years of active duty and has been compensated by 4Patriots for his hard work in helping us test and endorse products.
2. U.S. Consumer Product Safety Commission. CPSC Releases New Report on Carbon Monoxide (CO) Fatalities, Urges Generator Safety in New PSA. August 2022.
3. Peak output for the Patriot Power Generator increased from 3,048 W (1800 model) to 4,000 W (2000X model). Continuous output is 1,800 W and 2,000 W, respectively. Storage capacity for DC devices increased from 768 Wh (1800 model) to 1536 Wh (2000 model).
4. Your fridge and freezer run on cycles. The CDC states running your generator for 1 hour will cool your appliances for approximately 4 hours. Some factors, such as location and the number of items inside your fridge, can affect run time.