Patriot Power All-in-1 Emergency Car Kit
[NEW] Ultimate Car-Safety Kit. The Patriot Power All-In-1 Emergency Car Kit is a done-for-you, 95-piece kit built by survival experts who know how to plan for any emergency. It's a robust kit that can stand up to dangerous roadside issues — dead batteries, flat tires, first-aid emergencies, being stranded and more.
Rated by Field & Stream as a "Best Bug-Out Bag of 2023" and Featured on Fox & Friends. Makes a great gift — one that you'll be proud let ride shotgun in your preparedness plan.
95 pieces: Food, power, water & first aid

Jumpstarter works on cars, trucks, boats & planes
3 Days of food & drinking water
F

ix a flat, jump a battery & charge a phone

45-Piece first aid kit + more!
Ships from Utah, USA

FREE Shipping & Handling (USA 48)

Regular price

Sale price

$349

Unit price

per
[NEW] Patriot Power All-in-1 Emergency Car Kit
Tested & Rated "Best Bug-Out Bag for Cars" by Field & Stream
No one is immune to roadway incidents.
Whether it's as simple as a flat tire, or as large as a multi-car pileup…
You have to be ready to deal with an emergency from your car.
With 220 million flat tires and 100 million dead batteries per year…
It's not "if" you'll have car trouble. It's "when."
But the harsh truth? Most people are woefully unprepared.
Everyone knows they "could" get a flat tire. Or have their battery die when they need it the most.
Yet 69% of people either don't keep any emergency supplies in their car. Or admit that the supplies they have are insufficient.
So when they need those tools the most? They're left stranded.
Enter: the Patriot Power All-in-1 Emergency Car Kit. It's an expert-designed car safety kit you can use during a roadside emergency.
In fact, Field & Stream Magazine rated it one of their "Best Bug-Out Bags of 2023" after putting it through their tests.
Power, Food & Safety in a Single, Easy-to-Use Package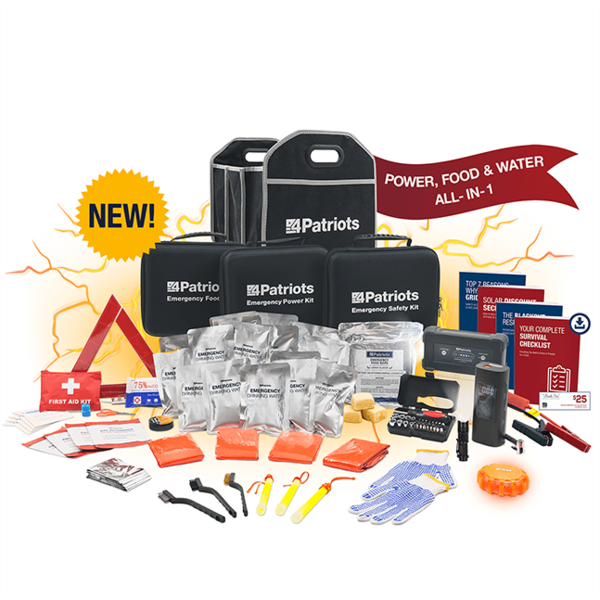 Each All-in-1 Emergency Car Kit includes...
Fast Charging, 14,000 mAh Battery
150 PSI Air Compressor
1-Person Jumper Cables
12V Cigarette Charger
Wall Charger
Compressor Power Cable
9 Emergency Food Bars
16 Portable Water Pouches (4 oz)
44-Piece First Aid Kit
Durable Mylar Blanket
Two-Sided Backup Ponchos
Oxygen-Activated Hand Warmers
Emergency Gloves
LED Light Square
9-Mode S.O.S Signal Light
Emergency Glow Sticks
Emergency Triangle
Alcohol Wipes
PVC Tape
Screwdriver Kit (24 attachments!)
Wire Brush
And much more! This All-in-1 Emergency Car Kit could truly make a difference for you and your family in a crisis. Click "Add to Cart" to start your order now.
As Featured on FOX & Friends
"4Patriots - I love these guys! You have three things that come in this handy tote. Emergency power that comes with a jump start kit that allows you to jump your battery and a compressor to pump up your tires. You have emergency food and water supply. Emergency first aid kit and heating blankets. All the things you need to keep warm and keep safe. When you're all done with them, they all fit into this awesome organizer that goes right in your trunk. And you keep it all organized. I love it."
FOX & Friends is not affiliated with 4Patriots; no endorsement is claimed. Click here to see original video.
This Kit Has Just About Everything You Would Need
"You never know when you're going to be in a disaster or an emergency situation where you need stuff like this. 4Patriots made it very convenient to have everything covered in a car carrier like this with just about everything you would need."
* Real reviews from real customers. Sometimes customers receive a free product to test or as a thank you for submitting honest feedback. For more information, see footnote 1.
A Done-For-You, 95-Piece Emergency Car Kit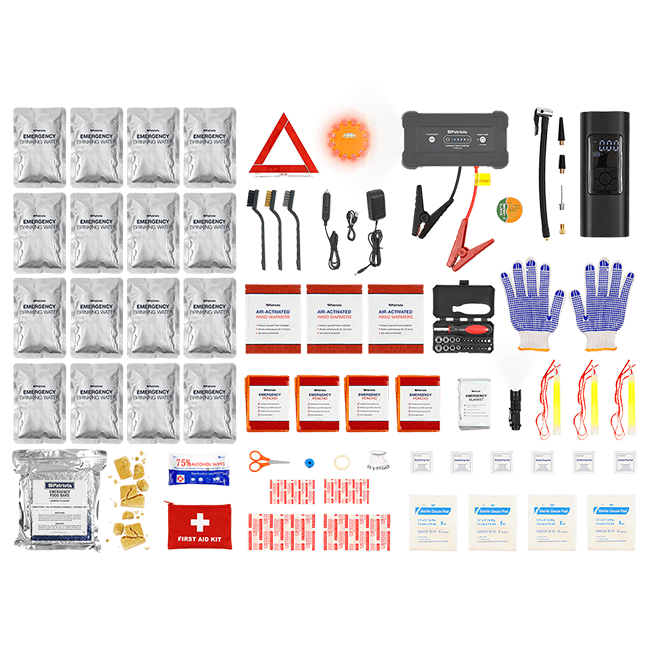 Car trouble doesn't happen when it's convenient. Or even when you expect it. That's why YOU have to prepare now.
But the truth is, most folks don't know where to start. That's why we had our survival experts build a done-for-you emergency car kit. So everyone, from preparedness newbies to true veterans can have the same peace of mind.
That's why this kit comes with 3 unique sections. So you have tools to deal with a wide range of problems.
Emergency Power
Fix a flat, jump a dead battery, recharge your phone and more! Your 4Patriots Emergency Power Kit comes with:
✔ Fast Charging, 14,000 mAh Battery
✔ 150 PSI Air Compressor
✔ 1-Person Jumper Cables
✔ 12V Cigarette Charger
✔ Wall Charger
✔ Compressor Power Cable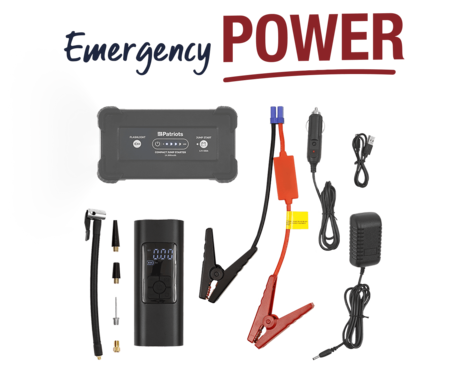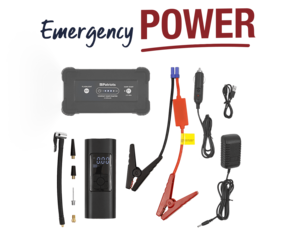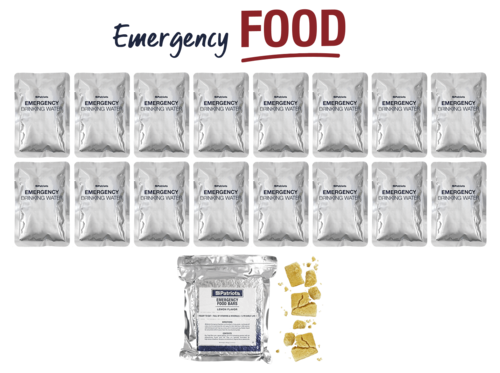 Emergency Food & Water
Having backup food & water in your car is critical. With the 4Patriots Emergency Food Kit, you'll get backup rations designed to last 5 years unopened.
✔ 9 Emergency Food Bars
✔ 16 Pouches of Emergency Drinking Water (4 oz)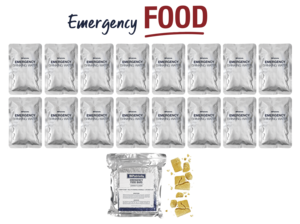 Emergency Safety
There's a wide variety of problems you could face in your car. That's why the 4Patriots Emergency Safety Kit gives you a wide variety of answers.
✔ 45-Piece First Aid Kit
✔ Durable Mylar Blanket
✔ Two-Sided Backup Poncho
✔ Oxygen-Activated Hand Warmers
✔ Emergency Gloves
✔ LED Light Square
✔ 9-Mode SOS Signal Light
✔ Emergency Glow Sticks
✔ Emergency Triangle
✔ Alcohol Wipes
✔ PVC Tape
✔ Screwdriver Kit
✔ Wire Brushes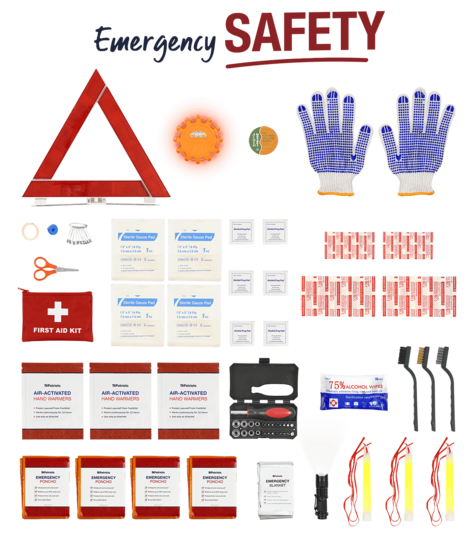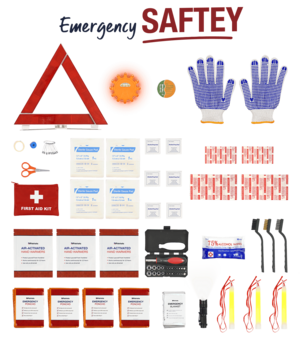 Easy, Stashable Design
The simple design means you can stash it easily in your trunk. It fits in trucks, sedans and even 2-door coupes.
Plus, everything is labeled and organized. So you don't have to spend precious time digging through your kit to find the tools you need.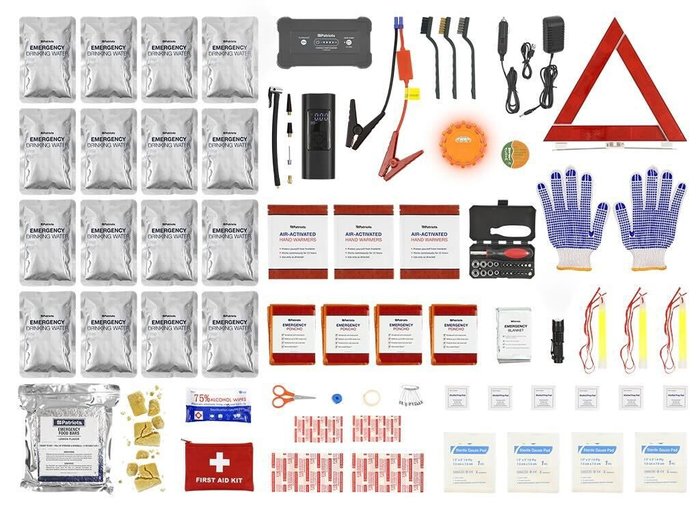 Claim Your Patriot Power All-in-1 Emergency Car Kit Now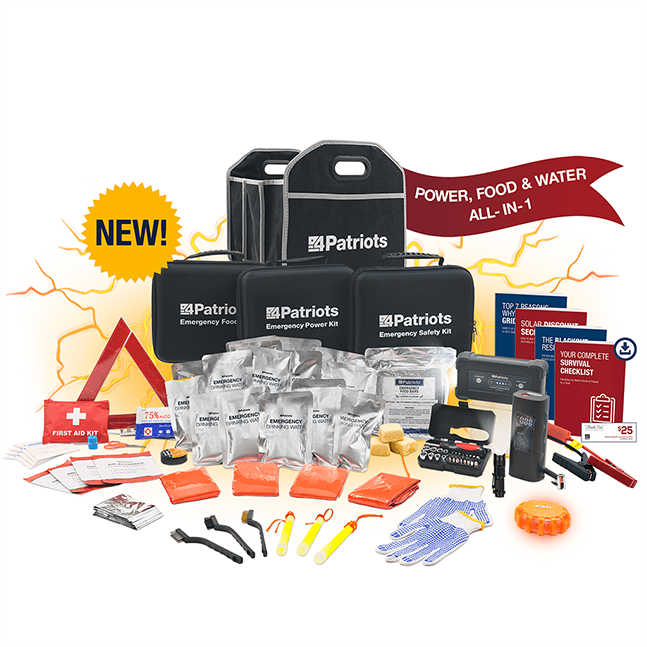 Patriot Power All-in-1 Emergency Car Kit Information:


100% Satisfaction Guarantee

Claim Your Patriot Power All-in-1 Emergency Car Kit Now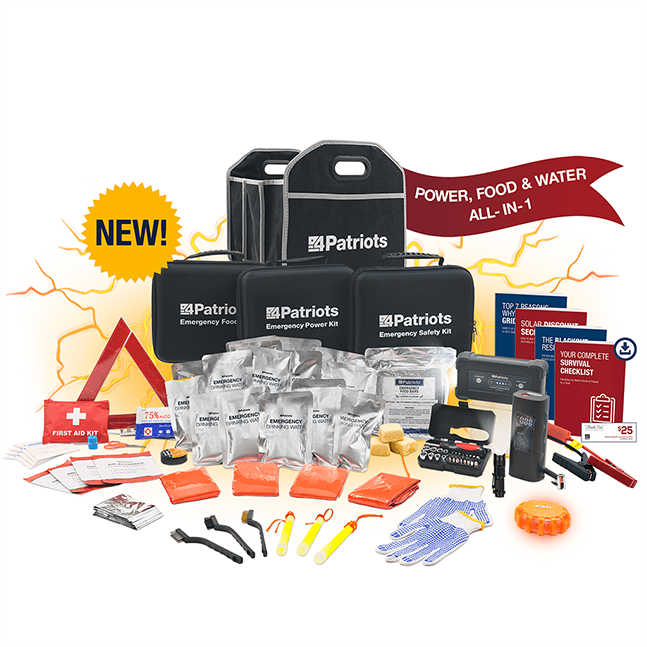 You Get a FREE Bonus Gift with Your Order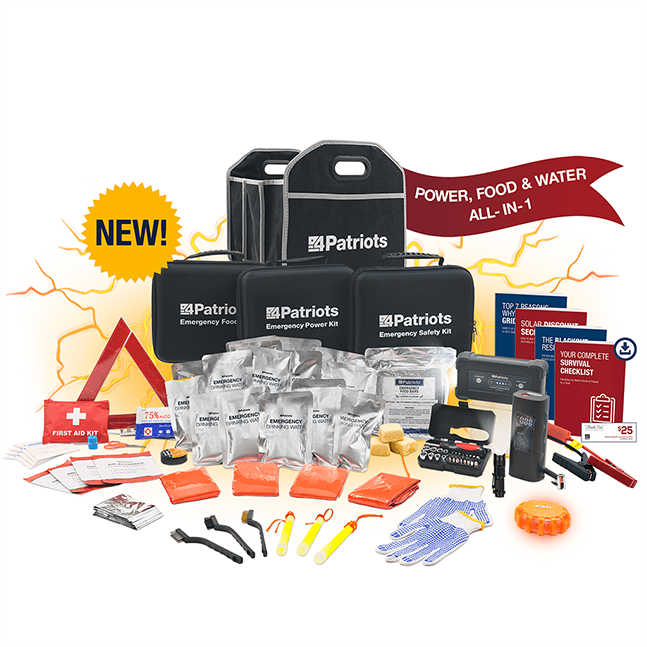 When you buy an All-in-1 Emergency Car Kit, you'll also get 4 books from our Blackout Survival Digital Library, with information and tips to help you prepare for an emergency. Together, these digital books are valued at $19.95, but they're yours free as a thank you for your purchase.
FREE Report: Top 7 Reasons the Grid Will Fail
This exclusive digital report exposes the risks to our delicate electric grid. Including one event on page six that is "100%" likely, according to a high-ranking government official.
FREE Report: The Blackout Response Guide
This digital report is your blueprint for what to expect in an extended power emergency. And for what you and your family can do beforehand to prepare. Including:
13 items to have ready NOW before a blackout hits
The one phone number never to call for updates
And much more!
FREE Report: The Generator Survival Checklist
Now that you've got your generator, make sure you have everything else you need to survive a crisis. It's all listed here. Including little-known household items that will make a huge difference in an emergency.
FREE Report: Solar Discount Secrets
Most people who purchase a solar system pay full price without giving any thought as to how they can pay less. In this digital report, you'll learn the tricks of the trade to structure a reasonable discount while still maintaining quality… and learn the right questions to ask along the way. (Most folks miss this one!)
Your Emergency Car Kit and FREE bonus gift could truly make a difference for you in a crisis. Click the "Add To Cart" button below.
Customer Reviews: Folks Love 4Patriots
"4Patriots is by far the best place to shop for your critical emergency needs! I have been working with them since 2017! I can guarantee that the staff at 4Patriots are the friendliest, most helpful people!They really go out of their way to make sure you have everything you need, answer any questions, or go straight to the source to get you the help and answers you need. Furthermore, if you have to leave your phone number, they call you back like they say they will. The food is excellent, the survival gear is top notch, and I especially like the order to door shipping times.
You truly are a member of the 4Patriots family. And lastly, yes, you are shopping for the disaster you pray isn't going to happen and that can be the scariest thing you will ever have to do. 4Patriots will make sure you have it all, give you helpful hints about using whatever it is you do have should you be missing something in case of that one unexpected snafu. And they will do it with care & concern!"
Gets My Blood Pumping in the Morning
"4Patriots is a company that has pride and the name (Patriot) is very fitting because they support our military. Food, packaging and getting it to your door is top notch. I have been a customer for about 4 years and never had a problem. I have referred them to several people and they also give rave reviews to me about 4Patriots."
Proud to Support USA Vets
"Could not have asked for better company to work with. They are helpful, courteous, and kind. These people are awesome for all that they do for veteran communities like ours in a disaster. These people are there to help. We asked for help during the 2018 Camp Fire and 4Patriots was the only company that stepped up to the plate and hit a grand slam for us. And again in 2020 in response to the Bear/North Complex fire."
Mike Z.
Commander
Disabled American Veterans, Chico Chapter
* Real reviews from real customers. Sometimes customers receive a free product to test or receive a free product as a thank you for submitting honest feedback. For more information, see footnote 1.
Your 4Patriots Order is 100% Risk-FREE
100% Satisfaction Guarantee
If for any reason you're not satisfied with your 4Patriots products, just return them within 365 days (that's a full year) from the date of purchase and we'll refund 100% of your purchase price. So there is no risk to you.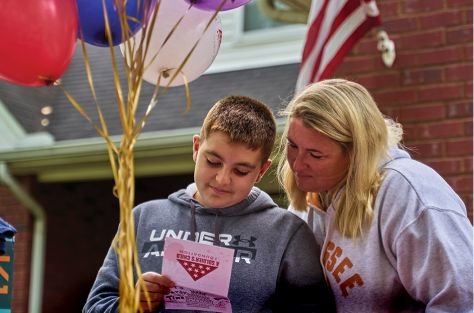 Your Order Helps USA Veterans
When you shop with 4Patriots, a portion of the proceeds goes to charities that support our veterans and their families. Including Operation Homefront, Fisher House, A Soldier's Child-Foundation and Team Rubicon.
4Patriots and our affiliated brands have donated more than $975,000 since we founded the company. And the number keeps growing!
You can feel good knowing that you're supporting our veterans while getting the peace of mind you deserve.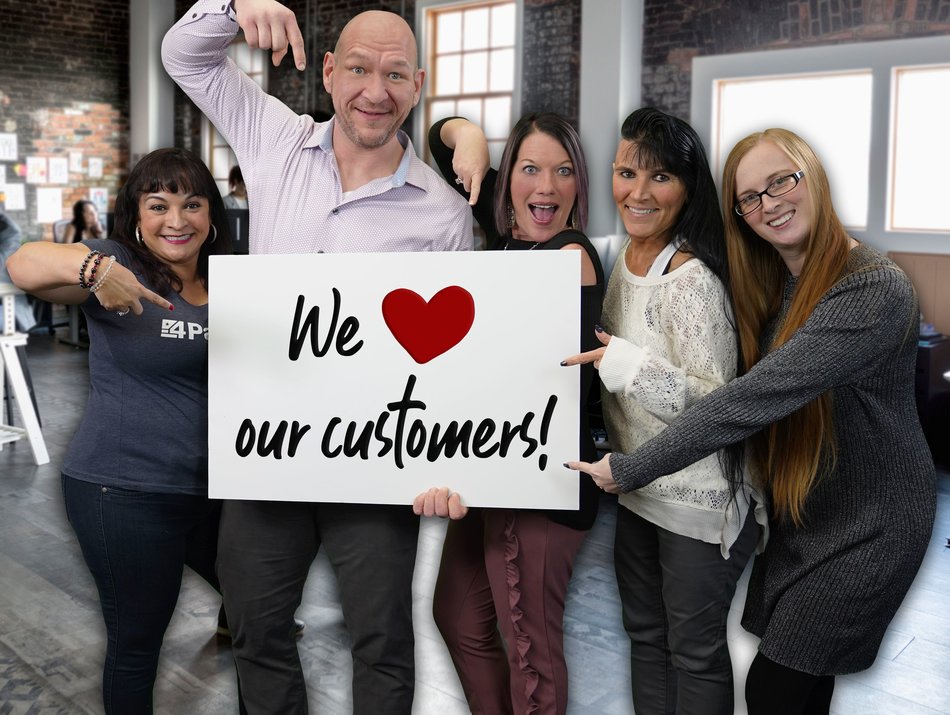 An American Company You Can Count On
Thanks to your support, we're able to employ 175+ American men and women from all across the USA. People who work hard and truly enjoy helping folks get prepared for emergencies.
Our office is located in Nashville, Tennessee. We're real people – Americans. Not some 800 number in a foreign call center.
So, if you need help… please call or chat with our friendly, America-based customer service team today.
Claim Your Patriot Power All-in-1 Emergency Car Kit Now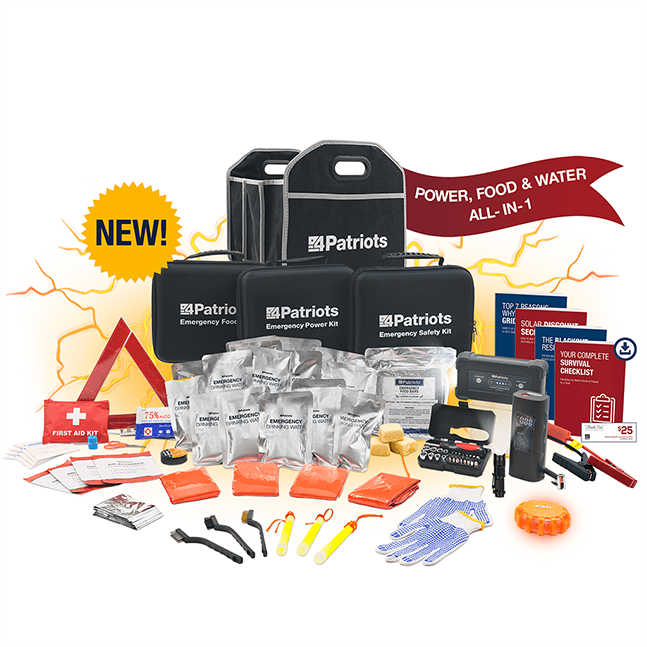 Frequently Asked Questions
Q: What if I change my mind?

Q: How does shipping work?

Q: Is it safe to buy online?

References:
1. All testimonials in this advertisement are from real people; sometimes names and photos have been changed to protect their privacy and some were given free products in exchange for their honest feedback. Testimonials represent exceptional results, don't apply to the average purchaser and are not intended to guarantee that anyone will achieve the same results. The organizations, publications and people referenced on this site are not affiliated with 4Patriots. They have not endorsed, sponsored or recommended this product; no affiliation or endorsement is claimed. Terms & conditions apply. Cade Courtley is a former Navy SEAL and Platoon Commander who served 9 years of active duty and has been compensated by 4Patriots for his hard work in helping us test and endorse this product.