🎄 12 Days of Christmas Event is happing right now! Today you can get $50.00 OFF our Emergency Go-Tote filled with our best-selling survival food, solar gadgets and more. 
[NEW] A done-for-you "Go Bag" in a stackable, covert tote. Including our most-popular survival food, emergency drinking water & solar tools. Use this kit during wildfires, storms and evacuations — it's well-rounded enough to support you at home or on the road. Get 1 for each person in your family.
Food, water, power & safety items
Makes a great gift
Designed by preparedness experts
Ships from Utah, USA
NEW Fast & FREE Shipping (USA 48)
Each Emergency Go-Tote contains:
3 Days of Survival Food & Water 
Solar Backup Power Bank
Solar Emergency Radio
Solar Lantern 
Mini First Aid Kit
2 Emergency Blankets
Freedom Flame Lighter
Regular price

$199.95

Sale price

$149.95

Unit price

per
4Patriots Emergency Go-Tote
This Done-For-You Emergency Kit Makes a Great Gift
You know you need to be prepared... but where to start? When your safety is at stake, making the wrong choice about emergency preparedness could be dangerous.
The Emergency Go-Tote takes the guesswork out of emergency preparedness. It's the perfect starter Survival Kit with essential items to help you through an emergency. Be that on the go... or hunkered down at home. Each Kit contains:
18 Emergency Food Bars — a 3-day supply
40 Pouches of water (160 oz. total)
Patriot Power Cell solar backup power bank
Solar Emergency Radio
Solar Lantern
Mini First Aid Kit
2 Emergency blankets
Freedom Flame lighter
14-Gallon stackable tote
A team of preparedness experts carefully curated this Emergency Go-Tote with the exact ingredients they'd want their own family to have in a crisis. These folks know what common needs are, and how to address them.
Get a Go-Tote for every person you care about — they stack covertly in a closet or tuck neatly under a bed. Grab them on your way out in an evacuation... or use them to hunker down during a storm. Keep one in your car as a breakdown back-up plan.
These kits are a great value. If you bought these products individually you'd spend $267.00. But when you claim your Go-Tote on this page... you save $67.00!
Click "Add to Cart" to start your order now.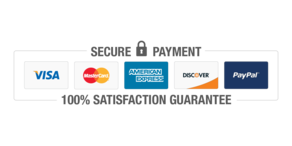 24 Hours a Day / 7 Days a Week / 365 Days a Year
* 5-year shelf life under proper storage conditions. Excess heat and/or damage to packaging may decrease shelf life. For more information, see footnote 3.
Here's Exactly What You Get in Each Kit
Most Customers Will Want More Than One!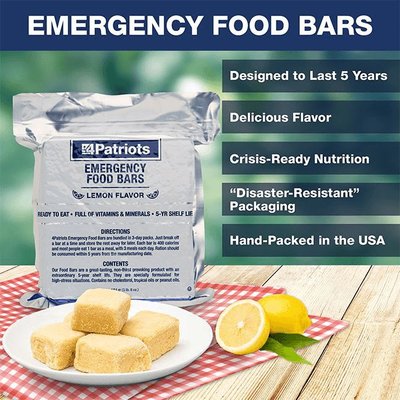 18 Servings of Emergency Food Bars
In an emergency, you feel hunger first. That's why you get 18 servings of our tasty Emergency Food Bars in your tote — a 3-Day Emergency Food Supply for 1 person.+
Each bar has 400 calories and a 5-year shelf life.* They stand up to extreme temperatures and are non-thirst provoking. Plus, these delicious food bars are "no-prep." They require no cooking, added water or heat source. And they taste like a shortbread lemon cookie.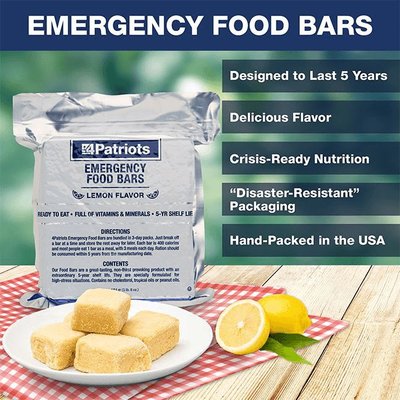 40 Pouches of Emergency Drinking Water
Water is one of your most-important resources in a crisis. And you can't live long without it. That's why you get a 3-day supply of it in your Emergency Go-Tote.
There are 40 pouches of triple-filtered Emergency Drinking Water in your Emergency Go-Tote. That's 160 total ounces — about a 3-day supply. It's triple filtered and packed in lightweight Mylar. So that you have clean water to depend on.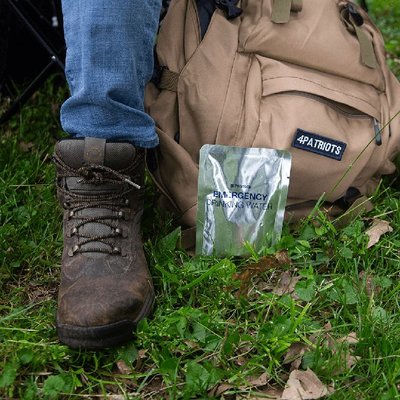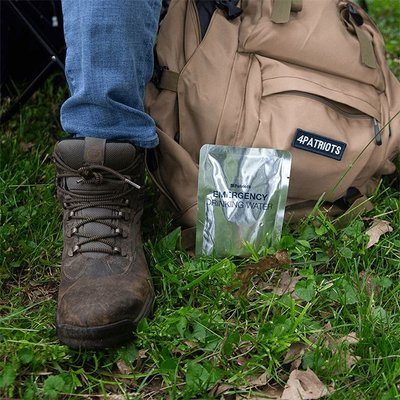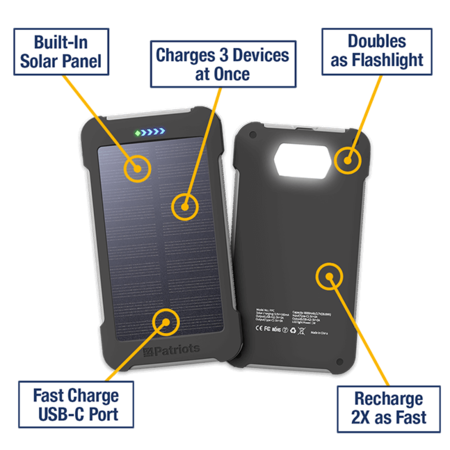 1 Patriot Power Cell CX
Our #1 portable, solar phone charger. So you have access to your most-important communication tool even in a blackout.
Our best-selling 4Patriots Patriot Power Cell CX is a breakthrough backup power device that charges in the SUN and fits in your pocket. Its "ruggedized" build can withstand drops, splashes and spills. So power up, plug in your device... and be on your way!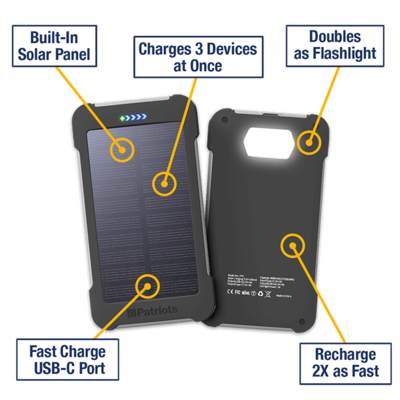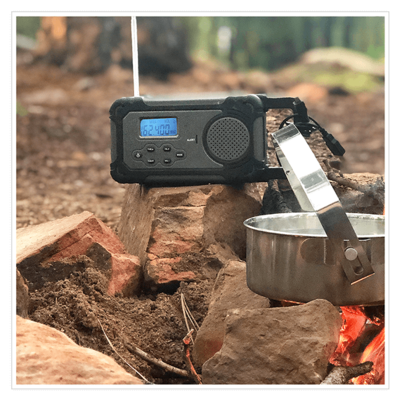 1 Liberty Band Solar Radio
Be the first to know important news. The Liberty Band Emergency Solar Radio comes with 7 radio functions:
NOAA weather alerts
5 Radio functions
Solar panel rechargeable
Hand crank rechargeable
Clock & alarm
Powers a phone & more
Built-in LED flashlight
So you'll know when to hunker down. Or when to get the heck out of dodge.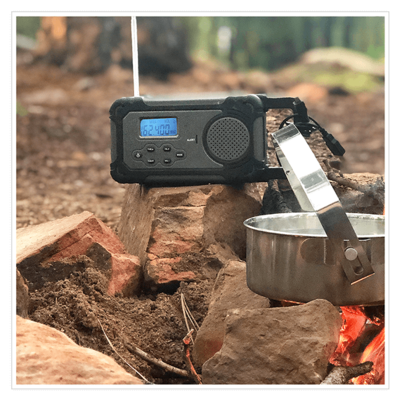 1 4Patriots SoLantern
Customer favorite! This advanced 2-in-1 gadget works as a lantern and a phone charger. Use it when RVing, camping, hunting or fishing. Use the USB port to recharge your phone in a pinch.
It's lightweight, portable and offers 5 modes of lighting. Get peace of mind during a blackout or your next outdoor adventure.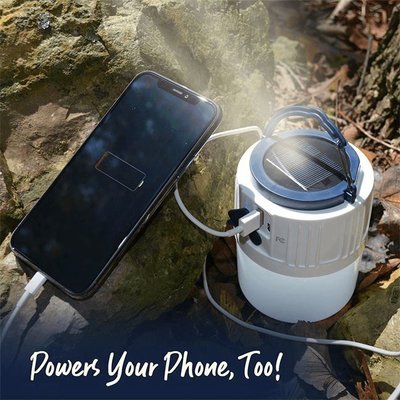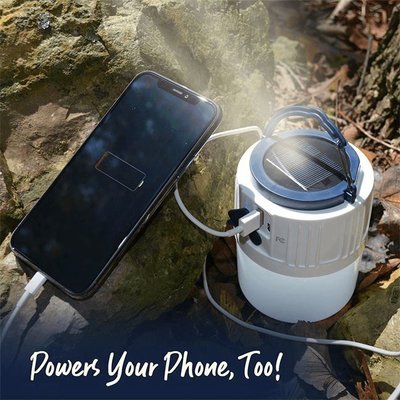 1 Customer-Favorite Safety Trio Kit
To help keep you safe in an emergency, each Emergency Go-Tote has critical safety items.
1x Mini First Aid Kit
2x Emergency Blankets
1x Freedom Flame Lighter
Use the Mini First Aid Kit to treat cuts, scrapes & bruises. Two Emergency Blankets protect you from dangerous cold climates. Use your Freedom Flame Lighter to start a fire for cooking, boil water, etc.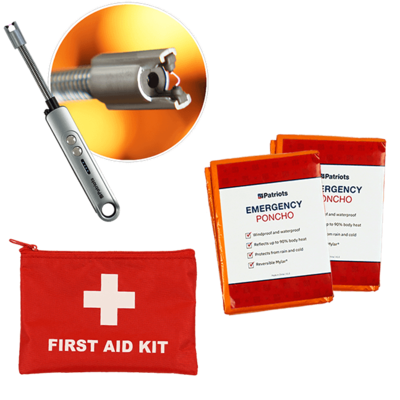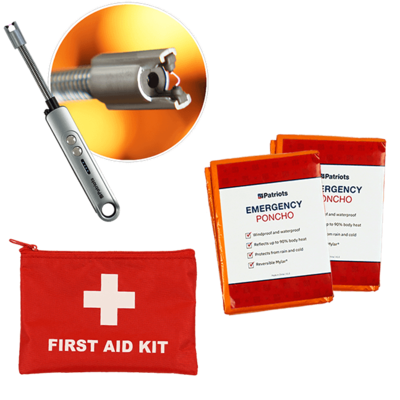 4Patriots Emergency Go-Tote Information:



100% Satisfaction Guarantee

Claim Your Emergency Go-Tote Now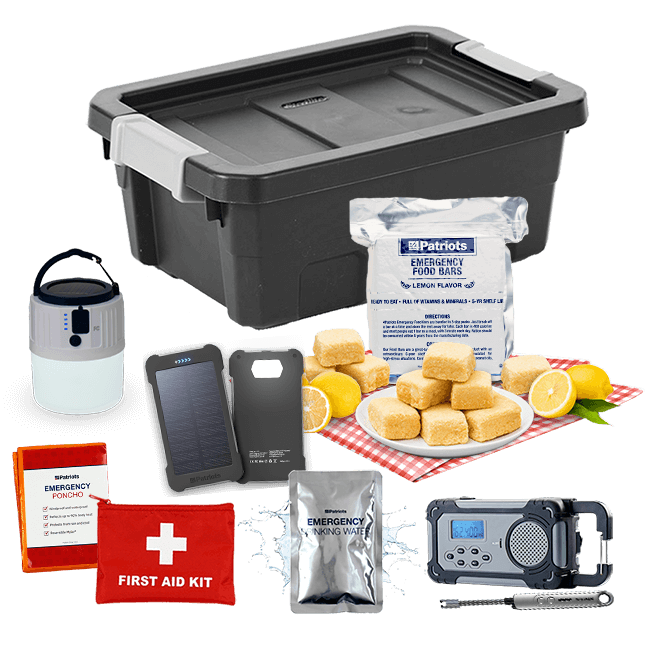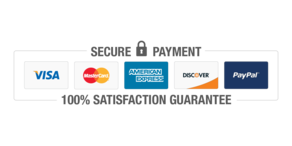 24 Hours a Day / 7 Days a Week / 365 Days a Year
* 5-year shelf life under proper storage conditions. Excess heat and/or damage to packaging may decrease shelf life. For more information, see footnote 3.
Customer Reviews: Folks Love 4Patriots
"I cannot believe how many items this company has come up with for our comfort & safety in our survival. Every item has a lot of thought & energy involved in protecting us from just about anything. I feel good giving this company my business because I know it's going to a good cause."
Excellent Emergency Products
"4Patriots offers excellent emergency products. Great service and great communication make this company well deserving of your business. 4Patriots makes you feel like you're dealing with a caring family who cares about your family. I will certainly buy future products from them."
* Real reviews from real customers. Sometimes customers receive a free product to test or receive a free product as a thank you for submitting honest feedback. For more information, see footnote 1.
Your 4Patriots Order is 100% Risk-FREE
Guarantee #1
100% Money-Back Satisfaction Guarantee
If for any reason you're not satisfied with your 4Patriots products, just return them within 365 days (that's a full year) from the date of purchase and we'll refund 100% of your purchase price. So there is no risk to you.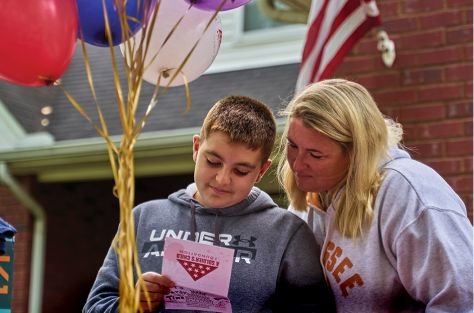 Your Order Helps USA Veterans
When you shop with 4Patriots, a portion of the proceeds goes to charities that support our veterans and their families. Including Operation Homefront, Fisher House, A Soldier's Child-Foundation and Team Rubicon.
4Patriots and our affiliated brands have donated more than $975,000 since we founded the company. And the number keeps growing!
You can feel good knowing that you're supporting our veterans while getting the peace of mind you deserve.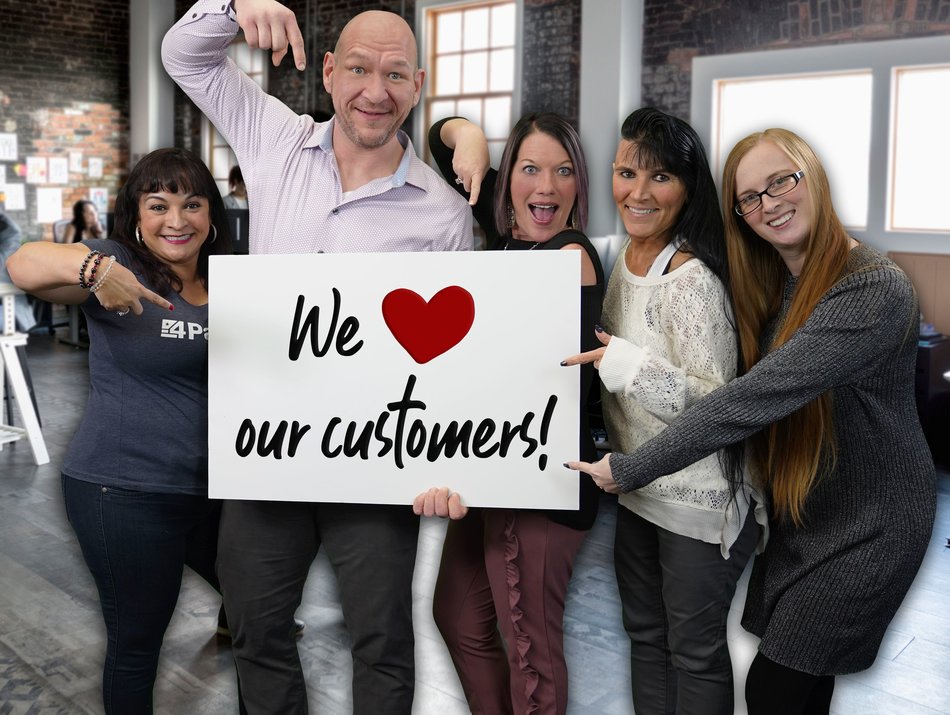 An American Company You Can Count On
Thanks to your support, we're able to employ 175+ American men and women from all across the USA. People who work hard and truly enjoy helping folks get prepared for emergencies.
Our office is located in Nashville, Tennessee. We're real people – Americans. Not some 800 number in a foreign call center.
So, if you need help… please call or chat with our friendly, America-based customer service team today.
Claim Your Emergency Go-Tote Now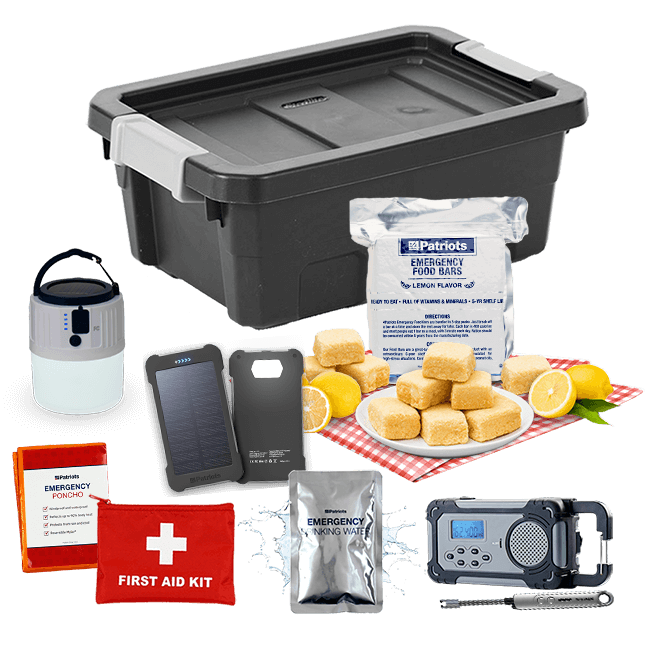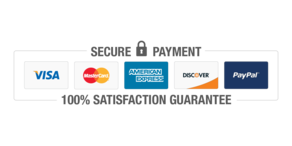 24 Hours a Day / 7 Days a Week / 365 Days a Year
* 5-year shelf life under proper storage conditions. Excess heat and/or damage to packaging may decrease shelf life. For more information, see footnote 3.
Frequently Asked Questions
Q: What if I change my mind?

Q: How does shipping work?

Q: Is it safe to buy online?

Q: What if I can't afford this?

1. All testimonials in this advertisement are from real people; sometimes names and photos have been changed to protect their privacy and some were given free products in exchange for their honest feedback. Testimonials represent exceptional results, don't apply to the average purchaser and are not intended to guarantee that anyone will achieve the same results. The organizations, publications and people referenced on this site are not affiliated with 4Patriots. They have not endorsed, sponsored or recommended this product; no affiliation or endorsement is claimed. Terms & conditions apply. Cade Courtley is a former Navy SEAL who served 9 years of active duty. He has been compensated by 4Patriots for his hard work in helping us test and endorse products.
2. Each Food Bar kit is designed to provide energy and nutrients for one person for one month in stressful emergency situations. They are not intended to be complete caloric replacements during "normal" times. An average adult needs approx. 2,000 calories per day to meet their energy needs. 4Patriots Emergency Food Bars provide 1,200 calories per day for one person. This may not be enough for optimal nutrition, especially for an extended period of time, or if you're pregnant, a child, elderly, or have other health conditions. In order to supplement your daily calorie intake, to add variety or to provide food for more than one person, we offer a number of supplemental products, including deluxe meal kits, meat packs, fruit and vegetable packs, etc. By combining our Food Bars with these additional products, you can ensure that you have 2,000 calories per day available to you during emergency situations. We'd be happy to discuss your particular preparedness goals, and to help you select more or less survival food to meet your unique needs. Call 1-800-304-4202 to speak with our friendly Customer Service team.
3. Your survival food is designed to last 5 years on the shelf. Storage conditions impact the shelf life of your food. For best results, always protect your food from heat, air and moisture. Avoid prolonged exposure to temps above 75 degrees F. Keep food sealed until ready to eat. Shelf life will vary based on storage conditions.