Solar Sentry Security Light
Keep Your Home Safe & Secure with these... Protect your home and your family with these. high-efficiency, ultra-bright LED lights that install in minutes.
Powered by the sun!

1,000 lumen lights stun intruders

120° infrared motion detection

IP65-waterproof rating 

Easy & quick installation + remote included

Ships from Utah, USA

Final Sale
Regular price

$49.95

Sale price

$24.95

Unit price

per
Here's What You Get With Your Solar Sentry Security Light
Long-Lasting Light to Get You Through the Night
Each Solar Sentry Light is a completely integrated security-light system. With a built-in solar panel, motion-detection functionality and infrared sensors. Plus an included remote control for easy ground-level operation.
Unlike complicated systems that feature moving parts & require expert installation... your Solar Sentry Lights are a cinch to use. They install in minutes. And they're 100% solar powered. No electricity to run, no batteries to replace, no extension cords to string, and no complicated setup.
Click "Add to Cart" to start your order now.
"Let The Sun Work For You & Rest Easy"
* Real reviews from real customers. Sometimes customers receive a free product to test or receive a free product as a thank you for submitting honest feedback. For more information, see footnote 1.
* Real reviews from real customers. Sometimes customers receive a free product to test or receive a free product as a thank you for submitting honest feedback. For more information, see footnote 1.
Be the Beacon in the Storm
Your Solar Sentry Light is made from a high-quality PC-ABS thermoplastic blend that's known for its strength, durability and temperature resistance. It also has a IP65 waterproof rating... so your security light is "dust-tight" and protected against extreme weather conditions.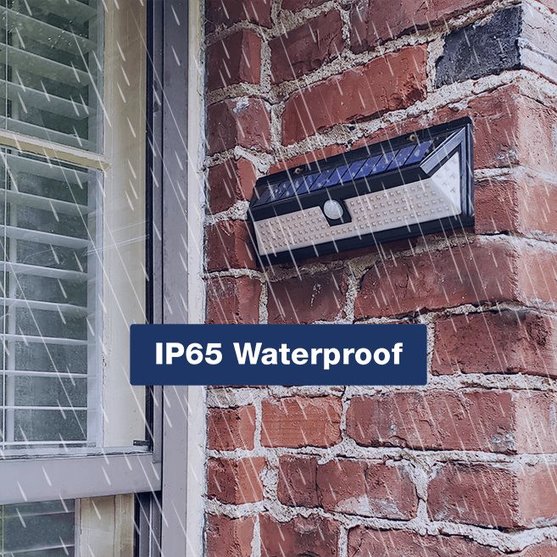 The Solar Sentry Light is the perfect outdoor night light for...
Above the garage
On the patio
In the garden
Over the lawn
Along a pathway
Above a gutter
And so much more!
Solar Sentry: The Ultimate Lookout
Extend your peace of mind. The Solar Sentry Light will create a safe path for every step you take.
This "breakthrough in backyard security" is the ultimate defense against home invasions... without costing a fortune. Its 118 ultra-bright LED lights are highly-efficient with a wide-angle spread. So you can shine a light on backyard security breaches. And also...
Brighten up your blindspots
Ward off intruders... both human and animal alike
Avoid trips & falls when returning home
Shed light on a backyard basketball court
And so much more!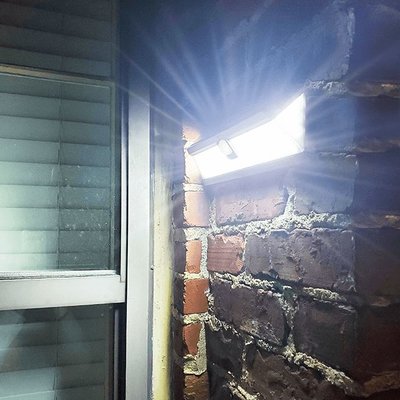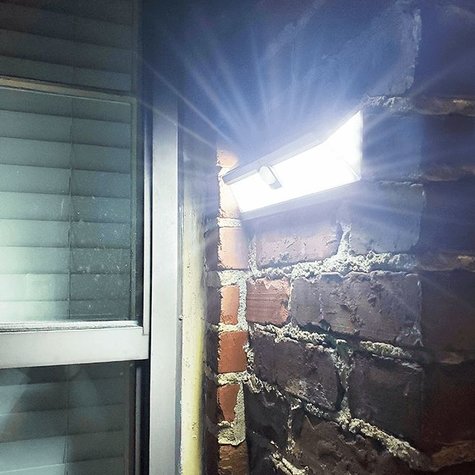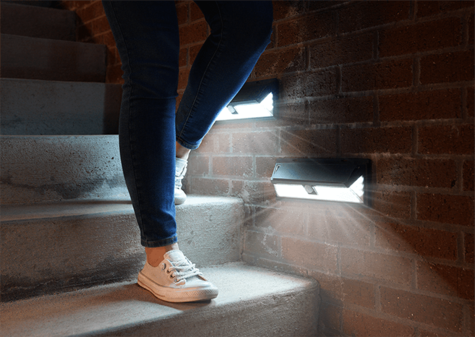 Advanced Motion Detection
The secret is its passive infrared sensors (PIR) that detect either the presence of infrared light emitted from a warm object like a human or animal. This advanced, night-vision technology will detect any human or animal-made motion… whether it's an intruder or visitor.
Your Solar Sentry Light will blast the area with the full force of it's ultra-bright LED lights.
And the sensitive PIR motion detector can detect people up to 39 feet away within an angle of 120 degrees.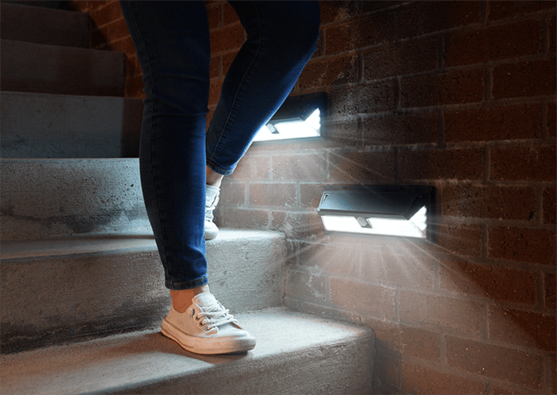 You're in Total Control
Customize your Solar Sentry Light with a touch of a button. You can adjust your light settings with 3 simple buttons...
PIR Mode: the motion sensor turns the light ON and OFF automatically
PIR + L Mode: the light remains ON all night and turns brighter when it detects motion
CDS "Continuous Directed Security" Mode: the light remains ON all night
And if you want a brief moment of light — whether you're getting out of your car, letting a guest in or want to check on a noise — you can turn on your Solar Sentry Light for 15, 30 or 60 seconds at a time with your remote control.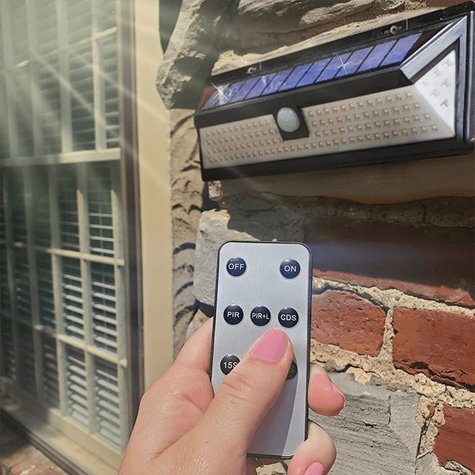 Light for the whole night. Your Solar Sentry Light is powered by a 2200 mAh rechargeable lithium-ion battery. It blasts up to 10 hours of ultra-bright light when set to Continuous Directed Security Mode. Dimensions are 12" x 4.2" x 1.9".
And when the sun rises, your Solar Sentry automatically turns off. This dusk-to-dawn feature is critical for the safety of your home and family. So your solar security system can soak in those rays, power up and shed its light when you need it the most.
Solar Sentry Security Lights Information:



100% Satisfaction Guarantee

Claim Your Solar Sentry Security Lights Now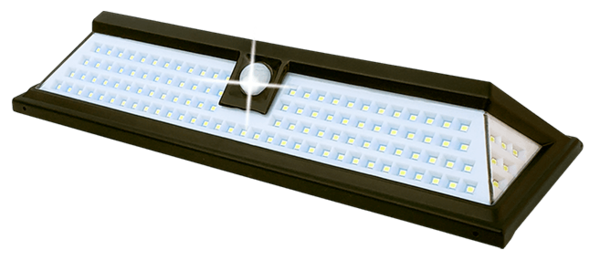 You Get a FREE Bonus Gift with Your Order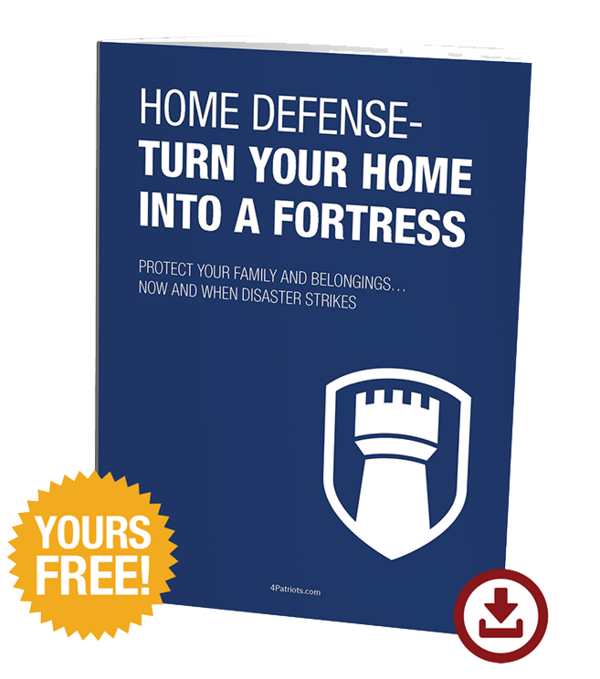 With your order you'll get FREE bonus gifts, digital gifts will be sent to your inbox immediately after purchase:
[FREE] Home Defense Guide
Turn your home into a fortress with this step-by-step guide. This digital report will walk you through the necessary changes you need to make in your home today…
The 10 ways to keep the bad guys out
How to scare intruders without a guard dog
How your toilet lid could thwart a break in
And SO much more!
Your Solar Sentry Security Lights and FREE bonus gift could truly make a difference for you in a crisis. Claim your Solar Sentries now by clicking the "Add To Cart" button below.
Customer Reviews: Folks Love This Security Light
This Works Better Than Any Other Solar Light I've Tried
"I was more than amazed with the power, durability and brightness of these solar-powered lights! In fact, I had to buy more because of how great they work! I STRONGLY and HIGHLY RECOMMEND them to anyone that is seeking the BEST WAY to light up their yard, porch, deck or wherever outdoors! They have outdone ANY solar powered lights I have ever used before, and there have been MANY!"
I Bought 3 for my Motorhome!
"If you are considering buying solar motion sensing lights, look no further. I purchased 3 for my motorhome and I am very happy with them. They're much better in person than the picture. Excellent quality, very functional, very bright; 4Patriots products are heavy-duty - no question."
* Real reviews from real customers. Sometimes customers receive a free product to test or receive a free product as a thank you for submitting honest feedback. For more information, see footnote 1.
Your 4Patriots Order is 100% Risk-FREE
100% Money-Back Satisfaction Guarantee
If for any reason you're not satisfied with your 4Patriots products, just return them within 365 days (that's a full year) from the date of purchase and we'll refund 100% of your purchase price.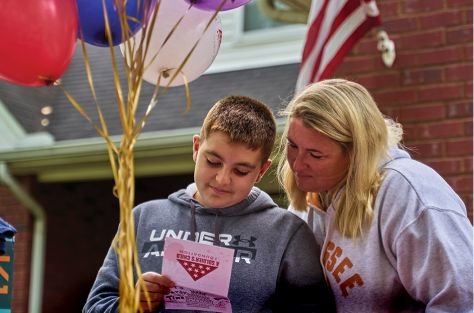 Your Order Helps USA Veterans
When you shop with 4Patriots, a portion of the proceeds goes to charities that support our veterans and their families. Including Operation Homefront, Fisher House, A Soldier's Child-Foundation and Team Rubicon.
4Patriots and our affiliated brands have donated more than $975,000 since we founded the company. And the number keeps growing!
You can feel good knowing that you're supporting our veterans while getting the peace of mind you deserve.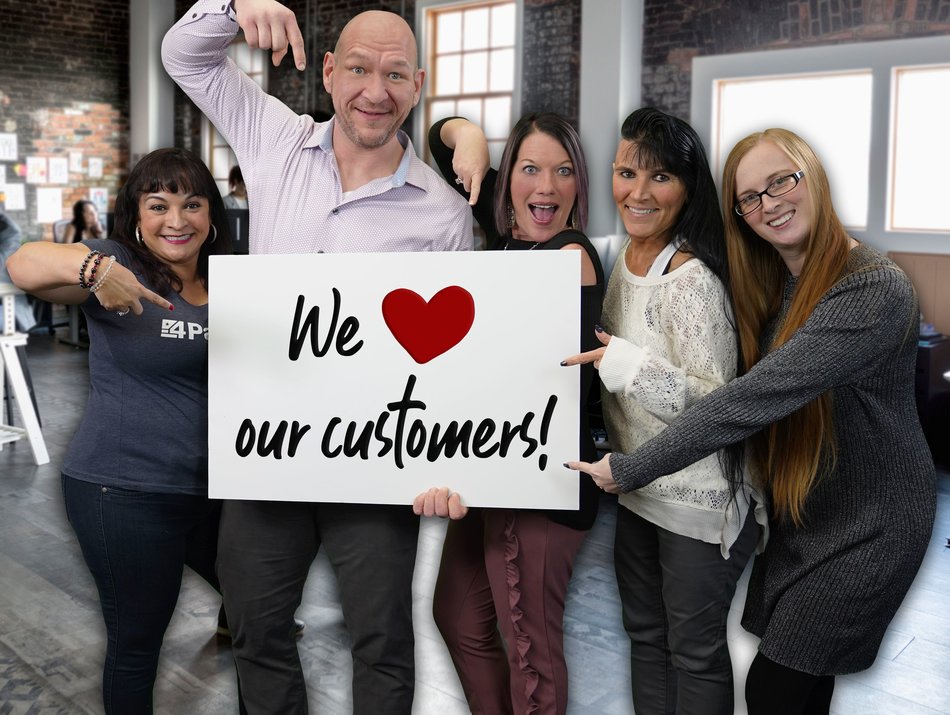 An American Company You Can Count On
Thanks to your support, we're able to employ 175+ American men and women from all across the USA. People who work hard and truly enjoy helping folks get prepared for emergencies.
Our office is located in Nashville, Tennessee. We're real people – Americans. Not some 800 number in a foreign call center.
So, if you need help… please call or chat with our friendly, America-based customer service team today.
Claim Your Solar Sentry Security Lights Now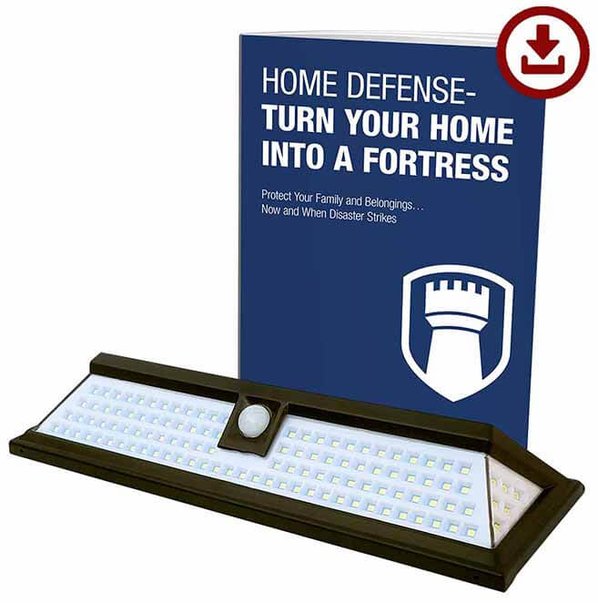 Frequently Asked Questions
Q: Can I keep it on all night?

Q: How do I charge the light?

Q: What's the preferred height for detecting motion?

Q: Does this need direct sunlight or it works on a shed too?

Q: What if I change my mind?

Q: How does shipping work?

Q: Is it safe to buy online?

References:
All testimonials in this advertisement are from real people; sometimes names and photos have been changed to protect their privacy and some were given free products in exchange for their honest feedback. Testimonials represent exceptional results, don't apply to the average purchaser and are not intended to guarantee that anyone will achieve the same results. The organizations, publications and people referenced on this site are not affiliated with 4Patriots. They have not endorsed, sponsored or recommended this product; no affiliation or endorsement is claimed. Terms & conditions apply. Cade Courtley is a former Navy SEAL and Platoon Commander who served 9 years of active duty and has been compensated by 4Patriots for his hard work in helping us test and endorse this product.