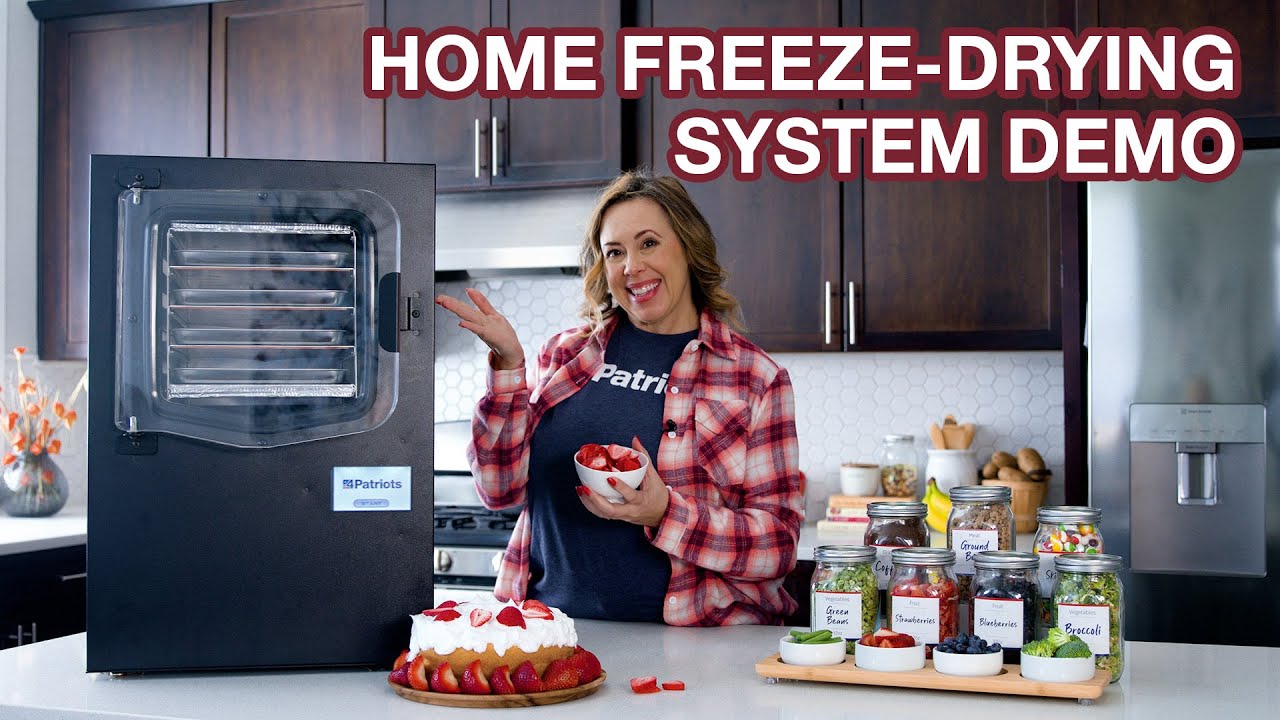 4Patriots Home Freeze-Drying System
[NEW Breakthrough System] Make your OWN long-term survival food. The 4Patriots Home Freeze-Drying System transforms your family's favorite foods into nutritious, high-quality meals that are delicious for decades. So that no matter what happens to our food supply — you can proudly keep your family safe & serve them what they want to eat.
Create your own food stockpile
Protect your family in emergencies
Advanced "smart" technology
Save food & money
Easy to use & clean
Everything included (mats, trays & more)
Commercial-grade & built to last
Built in USA
14 FREE gifts
FREE Shipping (USA 48)
Regular price

Sale price

$5,999

Unit price

per
Home Freeze-Drying System
[NEW Breakthrough System] Preppers & Everyday Moms Rave About
Your Home Freeze-Drying System perfectly preserves the flavor of meats, produce, dairy products, candy, soups, desserts, complete meals and more. And it does it naturally — without any added ingredients, harmful chemicals or nutrition-killing heat.
Stock up on groceries when prices are low, and enjoy your cost savings long into the future. Turn leftovers, hunting trips and big-box-store deals into valuable survival food. Enjoy fresh-picked herbs from your garden all-year long.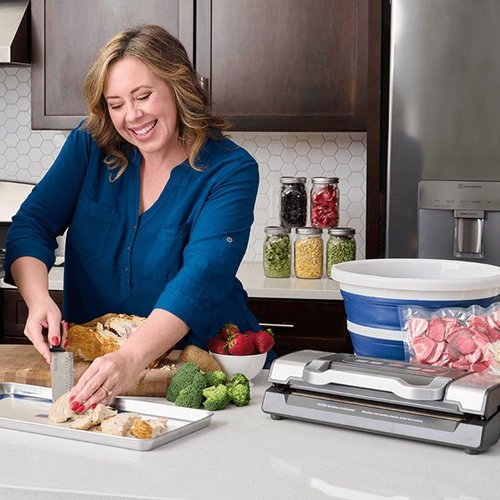 You'll love having your Home Freeze-Drying System for...
Stockpiling Your Own Food
Saving Money on Groceries
Beating Supply Chain Issues
Protecting Your Garden Harvest
Eating Healthier as a Family
Making Treats & Goodies too
Creating Lightweight Camping Meals
Peace of Mind!
And much more! So whether it's freak storms, inflated grocery-store prices, or when the household budget is stretched too thin… Your own food stockpile will be there.
This commercial-grade Home Freeze Drying System could truly make a difference for you and your family in a crisis. Click "Add to Cart" to start your order now.
"It Doesn't Get Easier Than THIS!"
* Real reviews from real customers. Sometimes customers receive a free product to test or receive a free product as a thank you for submitting honest feedback. For more information, see footnote 1.
The "Secret" Steps of Your Home Freeze-Dryer
Your brand-NEW Home Freeze-Dryer System comes with advanced technology and a patent-pending design that lets you "max-out" its capacity. Check out the amazing process your commercial-grade system uses…
1. A heavy-duty chamber "super chills" your food.
Down to around 30 degrees below zero (colder than the north pole).
2. A high-end & oil-free vacuum pump sucks all the air out.
A perfect, zero-oxygen environment is critical to the freeze-drying process.
3. A heater starts the "sublimation" process.
Turns the ice on your frozen food into vapor — removing all moisture.
4. A humidity sensor alerts you that your food is ready.
Ensures the water from your food is out and ready to immediately store in airtight containers (Mylar® bags, vacuum bags, canning jars, etc.) with an oxygen absorber for maximum shelf-life.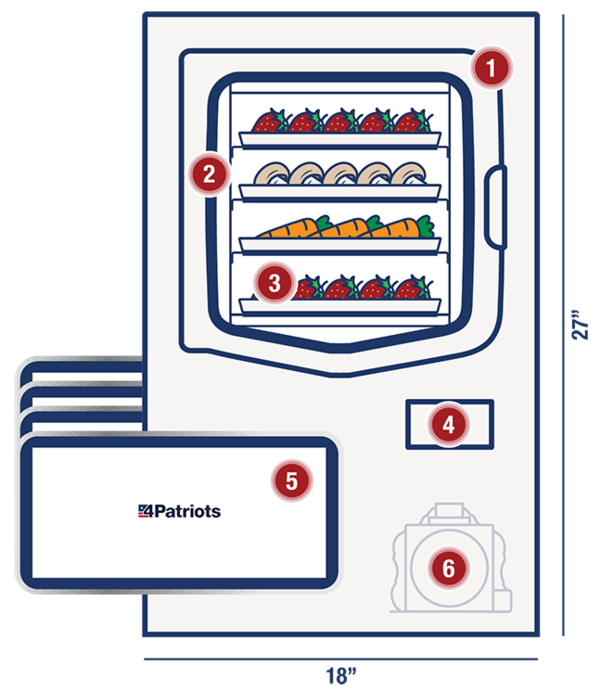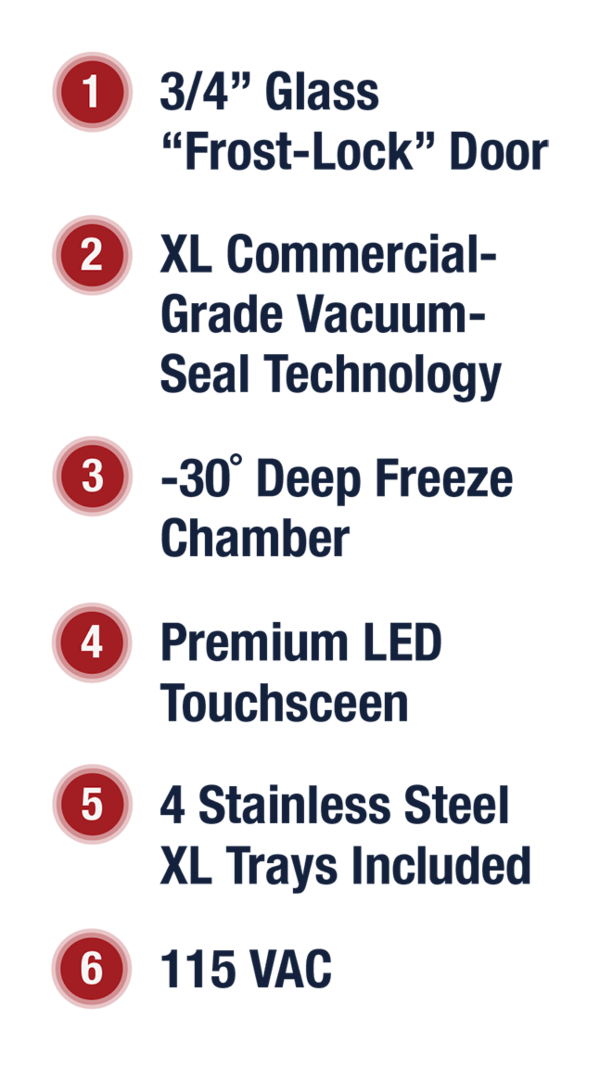 And you'll get everything included (trays, buckets, etc.) to whip up your survival food in no time.
4 Home Freeze-Drying System Trays & Mats
Home Freeze-Drying System Cart
Vacuum Sealer & 20 Storage Bags
Easy to Use & Clean
You don't need years of experience in the restaurant industry to run this commercial-grade system. Just press the "Start" button and watch the magic happen.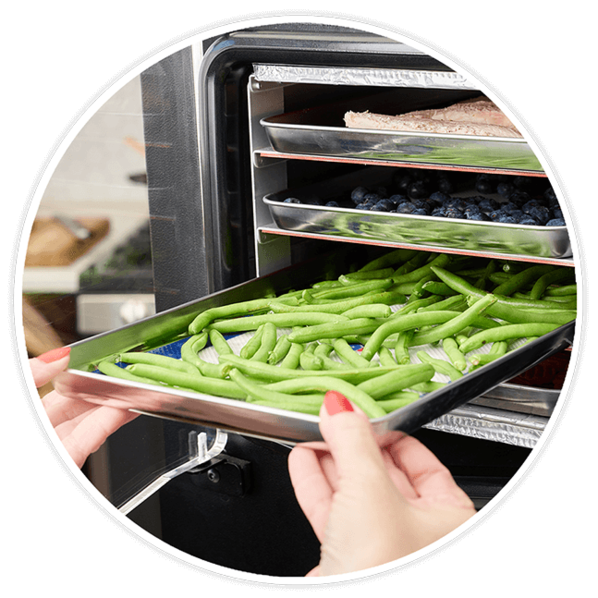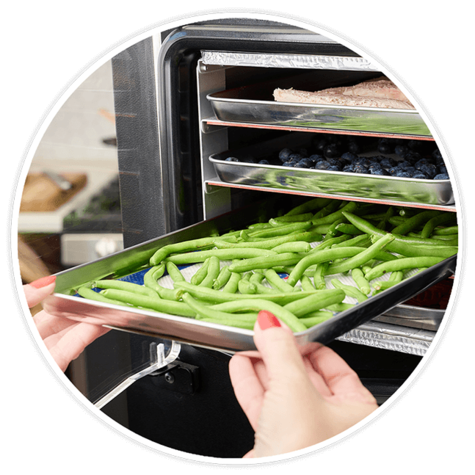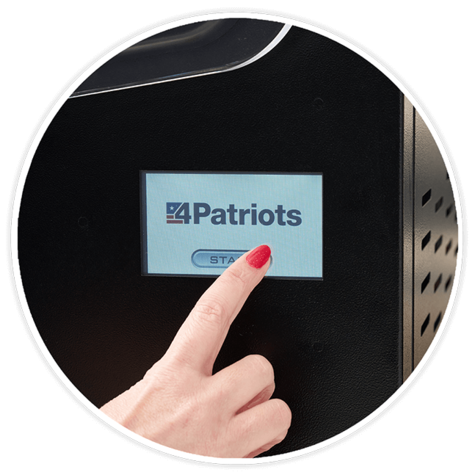 Advanced "Smart" Touchscreen
The easy-to-read touchscreen guides you through the entire freeze-drying process. It's so easy, even the kiddos can use it!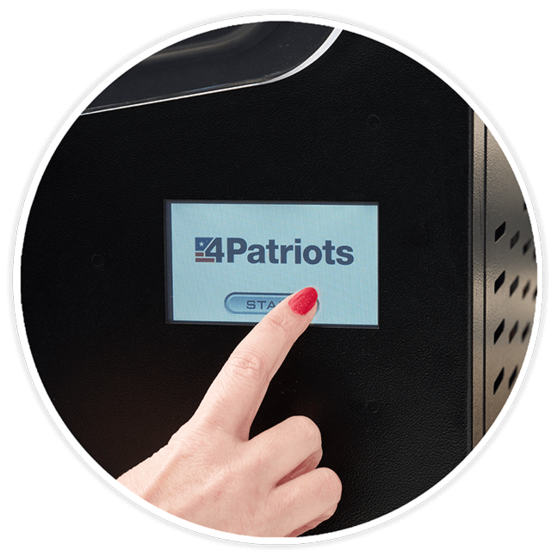 Built in the USA
Proudly built in the USA, your Home Freeze-Drying System is assembled with the same freeze-drying technology used by America's top survival-food manufacturers.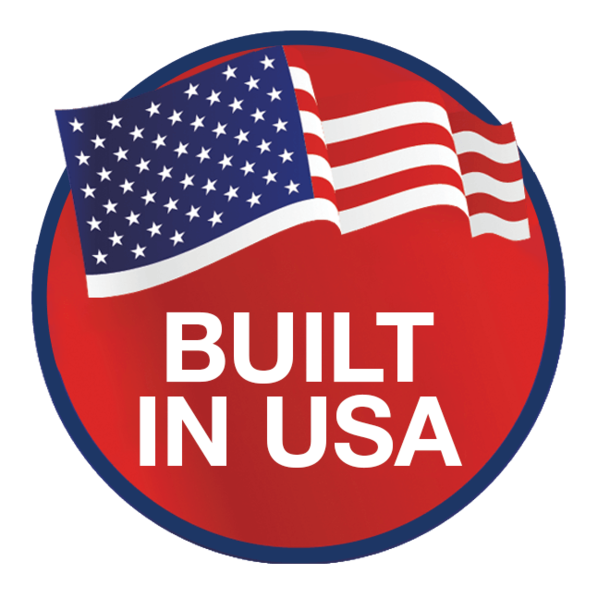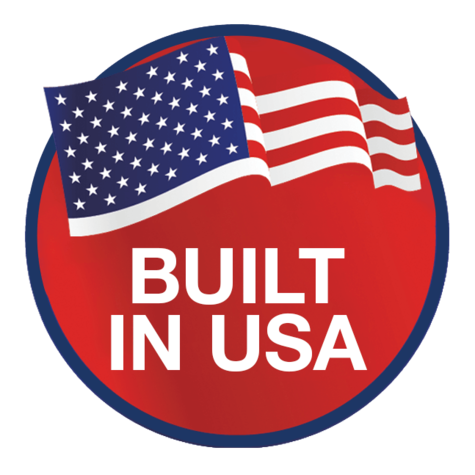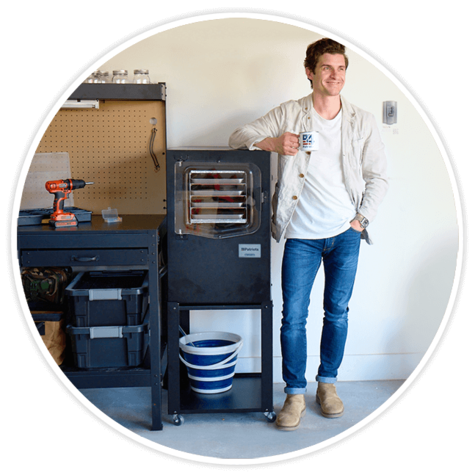 High-Quality Commercial-Grade
Don't let the words "commercial grade" scare you away. This system is tough and built to last, but it's also been designed to be used in your home.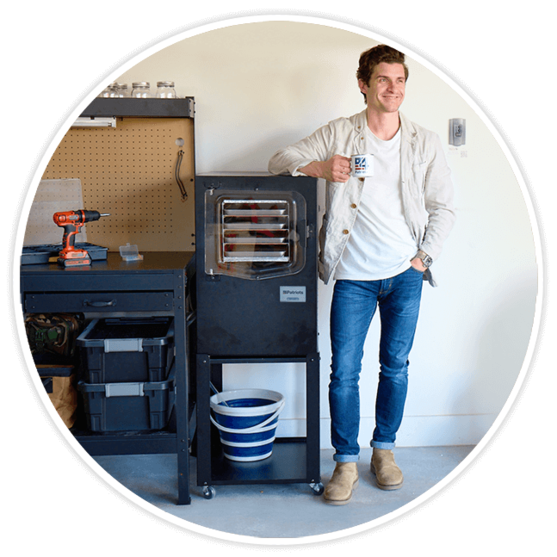 Build the Stockpile of Your Dreams & Save $$$
Not only will you be protecting your family by creating your own emergency food stockpile. But you'll also be protecting your wallet too. Look at the graph below to see how much money you'll save. The grocery store doesn't stand a chance against you and your Home Freeze-Drying System.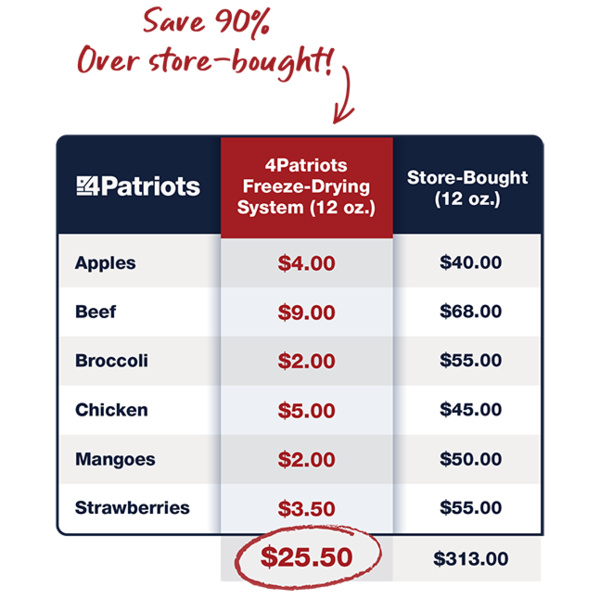 Home Freeze-Drying System Information:


100% Satisfaction Guarantee

Claim Your Home Freeze-Drying System Now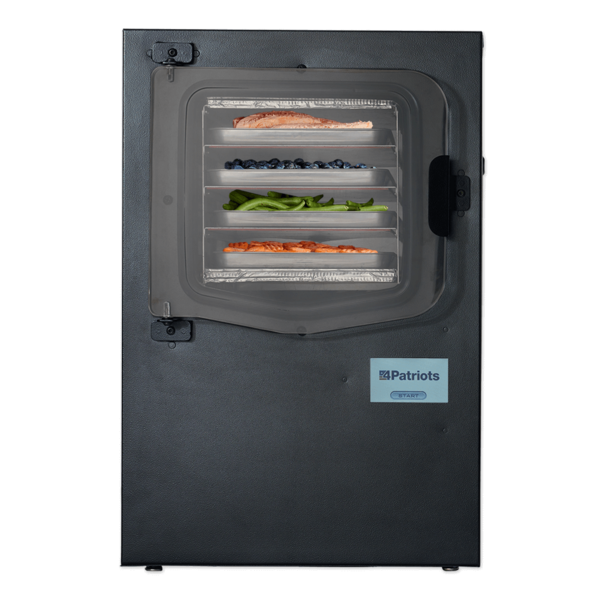 You Get FREE Bonus Gifts with Your Order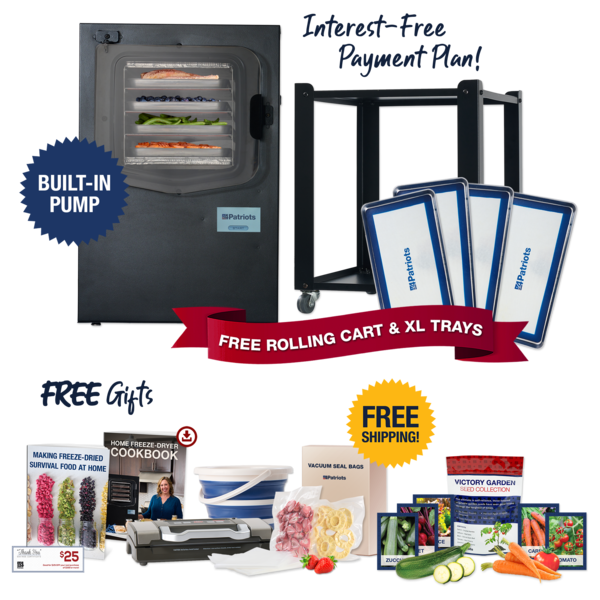 You'll get FREE bonus gifts today worth $648.75 with your 4Patriots Home Freeze-Drying System.
[FREE] 4 Home Freeze-Drying System Trays & Mats ($94.00 Value)
Food-grade stainless steel trays and easy-to-clean silicone mats make using your Home Freeze-Drying System a breeze and fun!
[FREE] Home Freeze-Drying System Cart ($159.95 Value)
Need to move your Freeze-Drying System? No problem! This cart is up to the job and it also doubles for tray storage if you need the extra real estate.
[FREE] Victory Garden Seed Vault ($29.95 Value)
Grow fresh produce in your backyard. And save it with your NEW freeze drier. You'll get between 7,457 and 9,919 non-GMO "survival seeds" measured by weight & designed to last for 5 years.*
*5-year shelf life under proper storage conditions. Excess heat and/or damage to packaging may decrease shelf life. For more information, see footnote 2.
[FREE] Vacuum Sealer ($75.00 Value)
Seal your storage bags shut. And seal in the freshness of your freeze-dried food. Giving you peace of mind that your own personal stockpile is there when you need it.
[FREE] 20 Storage Bags ($30.00 Value)
Store your delicious freeze-dried food away in these tough storage bags.
[FREE] "Hold & Fold" Collapsible Bucket ($14.95 Value)
Easy storage that goes with you anywhere. Use this little guy to transport your food or bags anywhere you go.
[FREE] "The Many Advantages of Freeze-Dried Food" Digital Report ($9.95 Value)
Tried-and-true tips survivalists have told us over the years — through their own trial and error. Like a cheat sheet in a dangerous emergency.
[FREE] Freeze Drying Digital Cookbook ($9.95 Value)
Everyone from a first-timer to a full-out prepper will love this Freeze Drying Cookbook, packed full of recipes from fruits and veggies to pet food.
[FREE] VIP Support Phone Line
Get "front-of-the-line" access to customer support specialists that are ready to help you with any questions or concerns.
[FREE] $25 Shopping Certificate
Use it on any future purchase of $100 or more — get best-selling survival food, solar gadgets and much more!
[FREE] Extended Manufacturer Warranty
On top of the Ironclad guarantee from 4Patriots you'll also be covered by an Extended Manufacturer Warranty too!
FREE Shipping & Handling ($200.00 Value)
Wow! Your Home Freeze-Drying System and FREE bonus gift could truly make a difference for you in a crisis. Click the "Add To Cart" button below.
A Message From Product Development…
"I have a smaller home, so when I saw that the 4Patriots Freeze-Drying System could process more food with a smaller machine, I knew it was the one for me.
Now that I have been using it, I love that it automatically senses if the food is done, so all I have to do is put frozen food in the machine and walk away. I can't imagine an easier way to freeze dry. I love this thing!"
4Patriots Product Development Team
* Real reviews from real customers. Sometimes customers receive a free product to test or receive a free product as a thank you for submitting honest feedback. For more information, see footnote 1.
Customer Reviews: Folks Love 4Patriots
Buy Peace of Mind Now, While You Can
"We got a huge winter storm in Texas. I have several of the 4Patriots food packs and the generator. The good part about all of this is that it was just such peace of mind to have this stuff. We were three days without power.
We were able to keep our batteries charged on our phones and to be able to entertain ourselves and also to stay in contact with our family and friends. Having that peace of mind of having the extra food there in case it did carry on was an enormous weight off my shoulders."
4Patriots Thought of Everything!
"All the 4Patriots products take the edge off of any emergency. Knowing that you have what you need — plus some — means you can think about other things and other people. There's no better feeling than being struck with an emergency and saying, 'ok, we can handle this.' This is your savings account for emergencies."
* Real reviews from real customers. Sometimes customers receive a free product to test or receive a free product as a thank you for submitting honest feedback. For more information, see footnote 1.
Your 4Patriots Order is 100% Risk-FREE
100% Money-Back Satisfaction Guarantee
If for any reason you're not satisfied with your 4Patriots products, just return them within 365 days (that's a full year) from the date of purchase and we'll refund 100% of your purchase price. So there is no risk to you.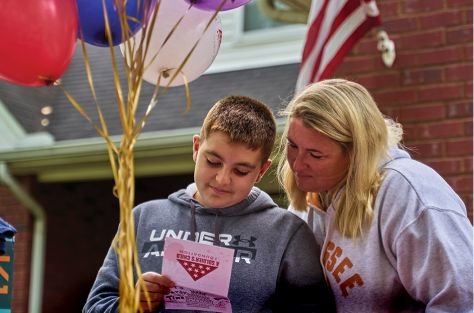 Your Order Helps USA Veterans
When you shop with 4Patriots, a portion of the proceeds goes to charities that support our veterans and their families. Including Operation Homefront, Fisher House, A Soldier's Child-Foundation and Team Rubicon.
4Patriots and our affiliated brands have donated more than $975,000 since we founded the company. And the number keeps growing!
You can feel good knowing that you're supporting our veterans while getting the peace of mind you deserve.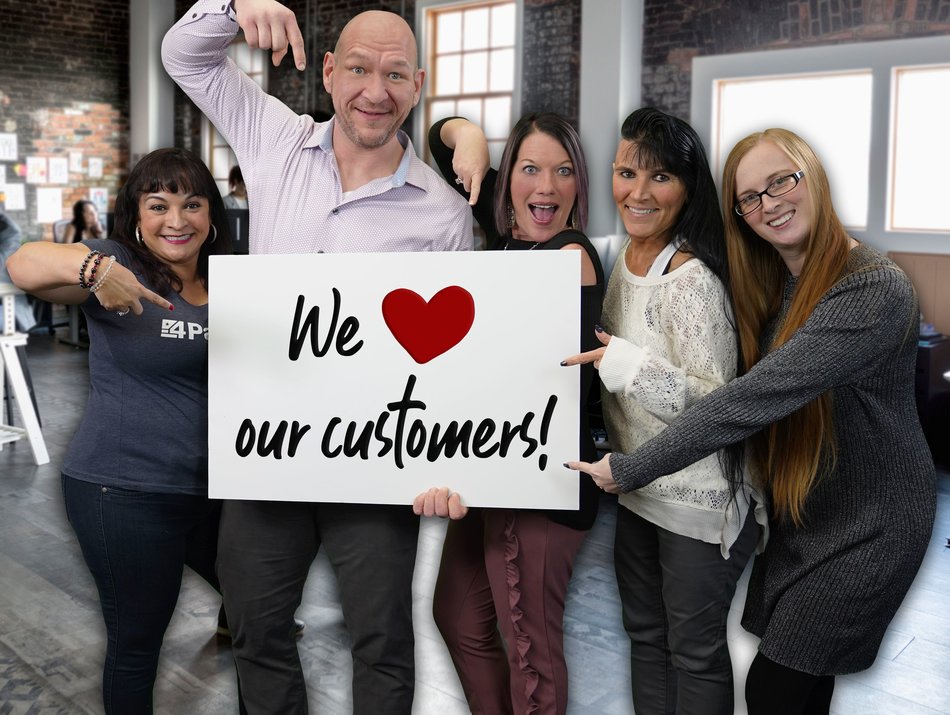 An American Company You Can Count On
Thanks to your support, we're able to employ 175+ American men and women from all across the USA. People who work hard and truly enjoy helping folks get prepared for emergencies.
Our office is located in Nashville, Tennessee. We're real people – Americans. Not some 800 number in a foreign call center.
So, if you need help… please call or chat with our friendly, America-based customer service team today.
Claim Your Home Freeze-Drying System Now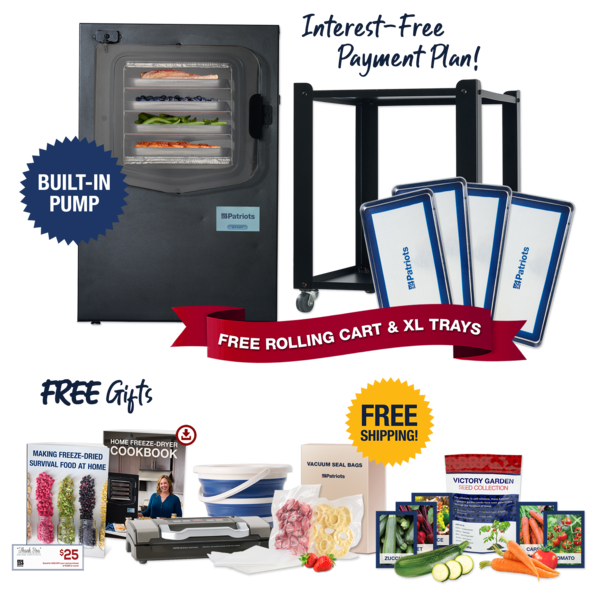 Frequently Asked Questions
Q: How does shipping work?

Q: Is it safe to buy online?


References:
All testimonials in this advertisement are from real people; sometimes names and photos have been changed to protect their privacy and some were given free products in exchange for their honest feedback. Testimonials represent exceptional results, don't apply to the average purchaser and are not intended to guarantee that anyone will achieve the same results. The organizations, publications and people referenced on this site are not affiliated with 4Patriots. They have not endorsed, sponsored or recommended this product; no affiliation or endorsement is claimed. Terms & conditions apply.

Your survival seeds are designed to last 5 years on the shelf. Storage conditions impact the shelf life of your seeds. For best results, always protect your food from heat, air and moisture. Avoid prolonged exposure to temps above 75 degrees F. Keep seeds sealed until ready to plant. Shelf life will vary based on storage conditions.